Professor Iver B. Neumann Shared his Views on Bout Legacy of the Steppe Tradition in Reference to Statehood
Mar. 8, 2019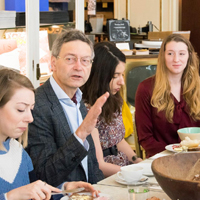 Funded by the Dr. Elizabeth Chopin Visiting Professorship, the IR Department at WVPU had the pleasure to host Professor Iver B. Neumann from February 18 to February 23, 2019. 
Professor Neumann, D. Phil. (Oxon, Politics), Dr. Philos. (Oslo, Anthropology) is currently the Director of Norwegian Social Research and an Adjunct Professor at the Museum of Cultural History, Oslo University. His most recent written works include, "The Steppe Tradition in International Relations, 4000 BCE—2018 AD" (Cambridge University Press) and "Concepts of International Relations" (University of Michigan Press).
While here, Prof. Neumann was a part of several exchanges and lectures. Starting with a public lecture organized in conjunction with the Diplomatic Academy on "The Steppe Tradition in IR: Russia, Turkey and European State Building" Prof. Neumann spoke about the legacy of the Steppe Tradition in reference to statehood.
He was also part of the IR Departments Politics & IR Research Seminar Series, presenting "The Evolution of Diplomacy". Faculty and students discussed how diplomacy came to be what is today and where it is headed in the future with a renowned expert in the field.
On his last day at WVPU, Prof. Neumann joined students, alumni, and faculty for a scholarly exchange over breakfast. This Method's Café was held on the topic of "Analyzing Discourses and Practices: Some Fundamental Ideas". During a lively debate a range of different topics on discourse, from history to gender, were covered. Prof. Neumann also elaborated on research methods he has used.
Additionally, our podcast, The Ten-Twenty, interviewed Prof. Neumann - check back here in a few weeks to listen to it. Prof. Neumann also gave an interview to radio FM4 concerning the INF Treaty and gave his opinions in regards to what messages Russia is sending to the rest of the world in pulling out of this 1987 treaty.
You can listen to his interview with radio FM4.
***
News by Topic
Tag Categories
News by Topic
Tag Categories