Professor Kraidy: Can Political Humor Be a Weapon for Activism and Against Extremism?
Mar. 21, 2019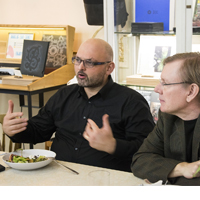 Visiting professor Marwan Kraidy held a series of public lectures and seminars at the Webster Vienna Private University (WVPU) on the Islamic state, pyropolitics and the use of humor to counter extremism.
From March 4 to March 8, 2019, professor Kraidy, the Anthony Shadid Chair in Global Media, Politics and Culture; Founding Director of the Center for Advanced Research in Global Communication at the University of Pennsylvania, held a series of public lectures and seminars where he shared his latest research on the Islamic State's use of the spectacle and the symbolism of fire in a public lecture, aptly titled "The torch and the hearth: Islamic state and the age of pyropolitics".
In his student lecture "Fun versus Fear: Political Humor as Anti-Extremist and Activism" he demonstrated the use of political humor as a weapon against extremists.
"This is clearly demonstrated through how humorists use situation comedy to defang ISIS and its message", stated Professor Kraidy during his lunch with WVPU students and faculty for a scholarly exchange. "This was a great opportunity for the WVPU community to share and discuss in depth the rapidly changing field of global communication", shared WVPU student Julia Schaubach, media and marketing major.
Funded by the Dr. Elizabeth Chopin Visiting Professorship, the WVPU's Media Communications Department hosted Professor Marwan Kraidy, the recipient of Fellowships from Carnegie Corporation of New York, John Simon Guggenheim Memorial Foundation, National Endowment for the Humanities, American Council of Learned Societies, Woodrow Wilson International Center for Scholars, and Netherlands Institute for Advanced Study in the Humanities and Social Sciences
Professor Kraidy has published more than 130 essays and 13 books, notably Hybridity, or the Cultural Logic of Globalization (Temple UP, 2005), Reality Television and Arab Politics (Cambridge UP, 2010), which won three leading prizes, and The Naked Blogger of Cairo: Creative Insurgency in the Arab World (Harvard UP 2016), which won three major awards.
You can listen to his interview with radio FM4.
***
News by Topic
Tag Categories
News by Topic
Tag Categories