A Reflection on the 2019 Mobile Journalism Workshop in Anif, Salzburg
Aug. 27, 2019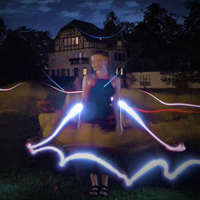 The sixth annual Mobile Journalism Workshop took place this July 2019 in Anif as part of the Anifer Journalismustage, which is organized by Webster Vienna Private University in cooperation with the Kuratorium für Journalistenausbildung (KfJ). Fifteen young professionals and media communication students, some of them - Webster Vienna students, had the unique opportunity to travel to Anif for the weekend to learn from one of the leading experts of mobile journalism, Glen Mulcahy, founder of Mojofest Ltd, the company behind Mojofest and Titanium Media, a media training and consultancy firm which specializes in mobile journalism and social video storytelling. Glen introduced various mobile journalism or mojo tools to the participants in order to foster an objective and independent stance to journalism in Europe and further afield.
A Reflection on the 2019 Mobile Journalism Workshop in Anif, Salzburg
Written by Evgeny Kandybko, Webster Vienna BA Media Communications student
To describe my experience during the 2019 Mobile Journalism workshop in Anif in just one word: Stellar. Here is why:
Although smartphones are commonplace in our culture, it is surprising how little people know about the capacities of their devices. Even relatively older models can perform nearly the same feats as professional media teams or film crews.
Most people can not tell the difference between a multimedia piece shot and edited on a phone from one made using high-end DSLR cameras and premium computer software. This is especially true when viewed on a smartphone through social media platforms (where most young people get their news), mainly due to the small size of its screen.
What separates the amateur from the professional is not the size or price of his or her equipment, but a set of storytelling and cinematographic skills. A pinch of creativity and a knack for taking interesting shots are also valuable assets for creating top-tier material. What we acquired in this workshop was such a skillset. The best way to learn is by doing, which is exactly what our trainer focused on – practical assignments in the field.
Armed only with tripods, lapel microphones, and our smartphones, with several useful (and mostly free) apps, we were able to shoot professional-grade short films and news stories. I would, therefore, recommend attending this workshop to anyone who would like to take full advantage of their smartphone to create solid content without investing too much into expensive gear. If nothing else, the weekend workshop in Anif was great, great fun.
For more information on the content of the workshop and the trainers involved, please follow the following link.
***
News by Topic
Tag Categories
News by Topic
Tag Categories