Reza's Path to the Passion and Family at Webster Vienna
Jul. 12, 2019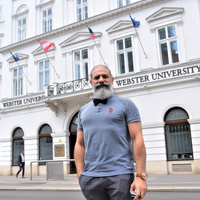 WVPU Psychology student Reza Noori discusses his life before Webster and the book that "changed his life", how Webster Vienna has allowed him to pursue his passions and his future research ambitions. Speaking with Reza, one can be in little doubt of his enthusiasm and passion for his studies here at Webster Vienna. But to hear him discuss his early life, psychology did not feature much.
"The destiny of every human being is decided by what goes on inside his skull when confronted by what goes on outside his skull." Eric Berne, Canadian psychiatrist and author of "What Do You Say, After You Say Hello? The psychology of human destiny".
WVPU Psychology student Reza Noori intends to do his psychology MA at WVPU and afterwards a PhD, perhaps in the US.
Born and raised in Iran, Reza originally studied chemical engineering in Tehran University, followed by 9-10 years in the industry across Tehran, India and Dubai. His time in Iran also included two years of military service, which seems bizarre to speak to the man today. He eventually moved to Turkey in 2009, as the sanctions against Iran had begun to take their toll. He set up an international trading company there, where, by his own admission, he earned a lot of money.
However, after 35-40 years following this trajectory, "for me, it was a kind of a mid-life crisis." The first step towards his new life was reading a book by Canadian psychiatrist Eric Berne, "What Do You Say, After You Say Hello? The psychology of human destiny". Berne created the theory of transactional analysis, an area which Reza continues to study today, examining a person's social transactions as a key indicator of their own personality.
"That book changed my whole life and I thought I found the thing I needed to be" says Reza, which led him to begin his psychology studies at the Livcon Academy in Turkey. He spent a year and a half there, before looking to Europe to continue his bachelor's. Webster Vienna stood out for him above all, as he could finish in two years given his previous experience, as well as gain greater international opportunities by studying through English, a "must" for any psychology student, in his opinion. Reza has now been in Vienna for 2 and a half years and despite having "ein bisschen" German, has found he can comfortably get by with English. Vienna has been easy for him to acclimatize to, he has found the people to be very warm and helpful. Having traveled a lot in his life he has learned "the basics of human beings" and he finds that generally, people are the same, despite cultural differences.
His feelings of the Webster Vienna community are similarly positive: "This is not University for me… this is my family." He sees the relationship with the faculty as one of friends or colleagues, rather than a strict teacher-student one. In this way he can discuss and is encouraged in his (many) research ideas, as well as being given the freedom to choose his own educational path. He is currently conducting his own transactional analysis research for his bachelor's thesis, examining how the psychological traits of one's parents effect attraction to people in later life. Reza theorizes that 60% of these traits will be replicated in who a person chooses to date, as the brain at an early age does not distinguish between positive and negative emotions, rather it tries to maximize the emotional response. Thus Reza feels the symbolic meaning of these traits to each individual will subconsciously realize themselves in their partners.
In discussing such ideas, Reza's passion for psychological research shines through. If his complex bachelor research isn't enough, Reza already intends to do his psychology MA at WVPU and afterwards a PhD, perhaps in the US. He has already begun with his future research interests, even if the prospective field remains hypothetical. He wants to conduct research in biomechanical psychology, for which his WVPU academic advisor, Dr. Marc Mehu, has helped him to make contact with Dr. Mark Changizi in the US. This would involve using a contact lens to control pupil dilation in order to reduce stress or anxiety, a groundbreaking technology were it to be realized.
Reza is a person whose brain is always working overtime, either questioning or learning new things. Having had his life changing discovery in Turkey, his search for the meaning of life led him to study astronomy and astrology, not due to a particular belief in it per se, but to understand how people seek to find direction from the universe. In this vein, his thirst for knowledge led him to take training scholarships in two departments at Webster Vienna, the library and IT, where he learned new skills and has made the most of his opportunities at the university.
Similarly, when obliged to do his two years military service, he recognized "I am going to be here for two years, I have to make it valuable for me." Thus he joined the army band and within a year he had learned the saxophone, clarinet and piccolo, despite no previous musical experience. Ever philosophical, he muses on the "right" of a state to enact the death penalty in a world devoid of objective good and evil and while when discussing the current threat of conflict in his home country, he states that "I have one life and I am going to find a peaceful place to live." In one last note, he adds his lifelong love of painting as an outlet to express his emotion and has had the opportunity to exhibit his abstract art at Webster Vienna, at the Yunus Emre Institute and other locations across the city. In Vienna, and at Webster, Reza has found that peaceful place he has sought to pursue his many passions.
Written by Adam Greene
Photography by: Nermin Podzic
***
News by Topic
Tag Categories
News by Topic
Tag Categories