The Road From Damascus: One Man's Journey from Conflict to Community at Webster Vienna
May. 24, 2019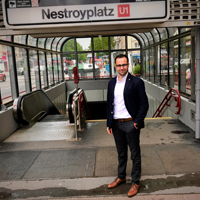 Sitting and listening to Mouhanad tell his story, one almost gets the sense as if the events being told happened a lifetime ago. Even with a responsive gasp and headshake in shock, awe, disgust, Mouhanad rarely loses his cool. But one can still tell how important his tale is to him: not only does his goulash lie nearly untouched for the duration of his storytelling, but one can't ignore the resentment rising in his voice when he speaks of the senselessness of the conflict which drove him here, to Vienna. Describing his youth in Damascus as the "perfect life", this sense of calm was shattered in late 2011 when pro-democracy demonstrations were followed by the formation of anti-regime militias.
by Adam Greene
It was at this point that Mouhanad's parents decided it was time to flee, but a librarian's blunder while scanning his passport left the document ruined and Mouhanad stranded as his parents continued on to his brother in Dubai. The following 2012 was spent holed-up in his city district, moving from house to house to avoid government and militia checkpoints, who were desperate to draft more young men for the civil war. After seven months, Mouhanad overcame the bureaucracy to finally obtain a new passport and in January 2013 decided to make his way to Libya, where his brother often worked, by any means necessary. A race to the Lebanese border through the combat zone was required, eventually leaving Mouhanad ill but out of danger, at least for now. Mouhanad then boarded his flight to Tripoli, Libya, but his troubles, as he stressed, were not over.
January 2013, Mouhanad in Tripoli, Libya just after the end of the popular uprising against the authoritarian rule of Muammar Gaddafi began in February 2011.
Libya in 2013 was in limbo following the overthrow of the government during the Arab Spring the previous year, so not only did Mouhanad find himself in a new and strange city, it was one without a functioning bureaucracy of any kind. Regardless, he managed to find himself jobs, made friends, and settled into relatively steady, if not exactly peaceful life. Warnings of renewed hostilities were constant, so when a tip came from a police friend to stock up on food, he did so with some skepticism. Thankfully he heeded the warning, as he and a colleague spent the next two months trapped inside his apartment.
Forced to ration food and survive on dirty water as gunfire and explosions rocked the city, the outbreak of civil war was the last straw for him after a year and ten months in Libya. When a lull in the fighting descended, he booked the next available flight to Dubai. However, the main airport was bombed the day before he was due to fly, forcing him to once again run the gauntlet of a combat zone to Misrata airport. For once, Mouhanad had luck and he made his flight to Turkey only for Misrata to suffer bombing the following week.
Upon arrival in Dubai, Mouhanad was reunited with his parents after three years, and once again tried to restart his life in unfamiliar settings. However, passport issues once again reared their head, as with just 11 months left on his passport he was unable to apply for residency, get a job or study abroad in Germany as he hoped. At this point in the story, you can feel his exasperation and would forgive a loss of hope. But as those at Webster Vienna Private University would attest to, Mouhanad always maintains his positive outlook. Unflappable in the face of work problems, he shrugs and says: "Why worry about such things, after all that I have been through?"
Under threat of deportation back to Syria, Mouhanad once more parts with his family, making the decision to join the stream of thousands of refugees making their way through Europe in late 2015. Turkey again, this time to Izmir, where he spent weeks swimming up to 7km in anticipation of a boat to Greece. Regardless of amazement, he exclaims that in the face of such danger, anyone would do the same. Mouhanad is very aware of the risk that he took. No experience on his journey weighs as heavily on him as this, nothing caused him to feel such fear. In a boat made for perhaps ten, 53 people, men, women and children, crossed the Aegean Sea for Greece. They were lucky, if you can say that about anyone in such a situation. After four and a half hours at sea the boat made ground on the island of Samos.
Mouhanad in a boat made for perhaps ten, 53 people, men, women and children, crossed the Aegean Sea for Greece.
For Mouhanad, then began the all too common march through Europe, first Athens, then on to Serbia, finally arriving in Vienna, Austria after nine days of exhausting travel. The intended final destination was Germany, but after 48 hours exploring the capital, he knew he didn't need to go any further: the city had won his heart. With the help of Austrian volunteers who took a shine to Mouhanad, he moved from the camp to a new apartment, started volunteering and learning German and eventually found work.
Three and a half years later, two and a half of these in the Webster Vienna Finance Office, he appreciates how this journey has shaped him. He acknowledges that as a young man in Damascus he was "weak", but that he is one of the lucky ones to not wear the physical or psychological scars of the experience. Webster Vienna is for him, finally, a settled environment. The multi-cultural community here can be somewhere where he feels he belongs, after the many years of uncertainty.
At last, WVPU, Vienna, Austria 
***
News by Topic
Tag Categories
News by Topic
Tag Categories