Rural Tourism Research Trip to Novi Sad
Feb. 22, 2019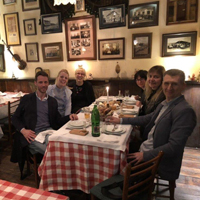 In conjunction with the research project Stakeholder Engagement within Rural Tourism in Austria and Serbia, the business and management department's Pernille Eskerod, Eva Zedlacher and Marcello Carmignani visited Novi Sad, Serbia in mid-February.
The project operates under the auspices of a bilateral Agreement on Scientific & Technological Cooperation between the Austrian and Serbian governments, funded by both the Austrian Federal Ministry of Science, Research and Economy (BMWFW) as well as the Serbian Government.
The research aims to identify key stakeholders in rural tourism and how service providers (e.g. farmers, wine producers, etc.) can engage various types of stakeholders, including local governing bodies, in order to enhance positive economic and cultural development for themselves and the local community. The research will especially focus on how rural tourism stakeholders cooperate in order for enhance value creation and value capturing for all. Stakeholders interviews, focus groups and knowledge co-creation events will inform the research and its findings will be made available in conference papers, journal articles and practitioner presentations.
News by Topic
Tag Categories
News by Topic
Tag Categories