A talk with Dr. Valentin Seidler, Resident Fellow at Ludwig Boltzmann Institute for Digital History
May. 2, 2019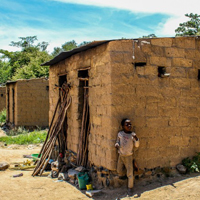 Cyclone Idai and post-disaster recovery in times of climate change. On building strategies for short-term relief and long-term development.
A talk with Dr. Valentin Seidler, Resident Fellow at Ludwig Boltzmann Institute for Digital History.
On April 24, the Center for Liberal Arts organized a student seminar and talk with Dr. Valentin Seidler, developmental economist and former representative of the Austrian Red Cross to the EU Commission in Brussels.
According to the UN Office for the Coordination of Humanitarian Affairs (OCHA), tropical cyclone Idai made landfall on the night of 14 March 2019 near Beira City in central Mozambique, before then affecting large areas with heavy rains and flash flooding as it turned into a tropical storm. Hundreds of people have lost their lives, significant damage was caused to the infrastructure of Beira and surrounding areas, and both livelihoods and properties have been destroyed throughout Mozambique, Zimbabwe and Malawi.
Following the catastrophic impact of the storm, students participating in Marlene Rutzendorfer's "Keystone Seminar: City Life - Cities in Transition" course seized the opportunity to learn from a specialist in the field of disaster relief and long-term development. During the talk, Dr. Seidler and students discussed how a largely destroyed port city like Beira would be able to deal with the immediate devastation, lack of clean water and health facilities, as well as the difficult task of reconstructing both residential areas and public infrastructure in the months and years to come.
Drawing on his previous experience, Dr. Seidler discussed the strategies of international organizations, such as the International Federation of Red Cross and Red Crescent Societies, to support some 200,000 people with shelter, water, sanitation, hygiene, health, assisting them in securing their livelihoods and meeting basic needs. Dr. Seidler took the audience through the Red Cross and Red Crescent's main interventions to date, from early warning actions by the Mozambique Red Cross (CVM) as soon as the tropical cyclone had formed over the Northern Mozambique Channel, to strategies for potential disaster risk reduction and resilience programs to be discussed and implemented.
Having worked in the area of Beira in the aftermath of the last cyclone of this magnitude, Leon-Eline, in the year 2000, Dr. Seidler was able to describe both the immediate impact of the storm, rain, and flash floods, as well as actions taken in the following months, especially as concerned the provision of clean drinking water wells throughout vast areas affected by the cyclone. Dr. Seidler's work and experience continually underlined the great resilience of communities in the region.
On April 28, just four days after Dr. Seidler´s talk, another cyclone, Kenneth, hit Mozambique in the northern province of Cabo Delgado. Because of its location in the coastal region of East Africa, Mozambique has a long history of dealing with the effects of cyclones; due to a rise in sea levels and water temperatures in the Indian Ocean, however, these disasters are likely to occur even more frequently and with even greater intensity.
***
Dr. Seidler is an economic historian and a developmental economist who has worked in post-earthquake relief operations in Indonesia and Italy, as well as in post-conflict humanitarian initiatives in Kosovo. From 2007 to 2009, Dr. Seidler served as a representative of the Austrian Red Cross to the EU Commission in Brussels. He has previously worked in Burkina Faso, Ethiopia, Indonesia, Mozambique, Moldova, Romania, East Timor and Cambodia and is now Erwin Schrödinger Fellow at the University of Vienna and a Resident Fellow at the Ludwig Boltzmann Institute for Digital History. He teaches Development Economics at the University of Vienna, and at the Diplomatic Academy in Vienna. 
***
Donations:
The Austrian Red Cross has opened a donation account for the emergency response to Cyclone Idai:
Erste Bank:IBAN: AT57 2011 1400 1440 0144
Für Überweisungen aus dem Ausland:
BIC: GIBAATWWXXX
Online Spenden: spende.roteskreuz.at
News by Topic
Tag Categories
News by Topic
Tag Categories