Warwick 2019 was a Big Success
Feb. 21, 2019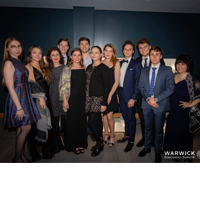 On January 31st, 2019 Webster Vienna Private University (WVPU) sent a delegation of 12 students to Coventry, England for the Warwick Economic Summit 2019.
Sponsored by the business and management department, student government association and the executive board of directors, the WVPU delegation was able to attend the prestigious summit all expenses paid. Comprised of undergraduate and graduate students alike and organized by our Warwick Ambassador Benedikt Kaltenboeck, the WVPU delegation was able to spend five wonderful days in Coventry attending the summit and exploring beautiful England.
The Warwick Economic summit is Europe's biggest student led conference and international forum where talented university students listen to some of the world's most revered and inspirational speakers. The Summit's focus goes far beyond the field of economics, encompassing the broader spheres of the social sciences, including development, politics, psychology and international relations.
The conference allowed students to acquire insight from top scholars and practitioners in fields such as asset management, economics, development, and international relations. Furthermore, students networked with experts in their specific fields and make invaluable connections with peers from around the globe
Benedikt Kaltenboeck (Class of  2019 - Business Administration and Management) said the following about the event:
"The Summit was a huge success and we successfully represented our University at this prestigious event. From Linda Yueh, former economic adviser to Bloomberg Television to Maurice Obstfeld former chief economist of the IMF, WES 2019 provided us with fascinating speakers and offered us great insights into a variety of different topics. I hope we can maintain lasting connections with the students from the University of Warwick with whom we established excellent relationships throughout the last 2 Summits so we can continue to provide our students with this extraordinary experience in the upcoming years."
News by Topic
Tag Categories
News by Topic
Tag Categories