Webster Vienna Private University and Borse Social Network: Panel Dicussion on Digitization, the Stock Market Climate, and Energy
Sep. 17, 2019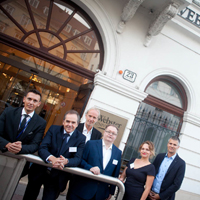 Webster Vienna Private University's business and management department co-hosted a closed panel discussion and networking event with Borse Social Network, publishers of BSN Magazine, in beautiful Palais Wenkheim. This was the third time that BSN has held their regular Closed Circle event at Webster Vienna Private University. 
Students brushed shoulders with local business leaders after an hour-long panel discussion on 21st Century mega trends like digitization, the stock market climate, and energy. The panel was moderated by BSN's Christian Drastil and featured Startup300's Bernhard Lehner, Net New Energy's Julia Ozturk, Wiener Privatbank's Wolfgang Matejka, and Gregor Rosinger of the Rosinger Group. They spoke candidly about how the current economic climate affects their investments, their respective companies, as well as their plans for the future. The discussion was interspersed with some lighthearted humor as well.
Jozef Chladek of BSN was pleased with the event. He stated: "Borse Social, the panel, and the audience enjoyed an evening with insights into digitzation, energy, the stock market and many more topics. Webster Vienna's Atrium was a rather 'dignified' location for this discussion."
The business and management department often partners with external stakeholders in the Vienna business community to co-host events on campus.
***
News by Topic
Tag Categories
News by Topic
Tag Categories