Webster Vienna Welcomes Fall II 2019 New Students!
Oct. 28, 2019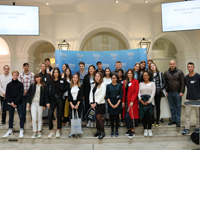 Webster Vienna Private University welcomed the Fall II 2019 students in style at its New Student Orientation on Wednesday, October 23.
Students from around the world came to Palais Wenkheim to learn all the tools, tips and tricks they need to succeed while at Webster Vienna.
Through exploring campus in the Orientation Scavenger Hunt and workshops geared towards preparing them for their university experience, students gained a deeper understanding of their degree programs, the resources available on campus, and their colleauges.
Orientation Leaders Miranda Csellich, Veronica Godea, Mykhailo Pliatsun, Valeriia Shchyholieva and Maria Skvoznova led the groups through the day-long event and helped students learn more about the Webster Vienna community.
News by Topic
Tag Categories
News by Topic
Tag Categories