Webster's Students and Alumni Took Part in an Educational Trip to Mauthausen Concentration Camp
Apr. 20, 2019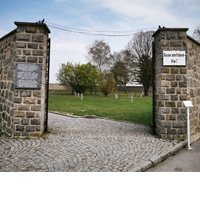 Webster Vienna students, study abroad students and alumni had the opportunity to take part in an educational trip to Mauthausen Concentration Camp. Situated in Upper Austria on a hill next to the Danube, the KZ stands like a warning sign and reminder of this horrific time in European, Austrian, and Jewish history.
From August 1938, when the Camp was commissioned, until May 1945 when it was liberated by the US Army, a total of around 190,000 people were imprisoned, of which at least 90,000 died. In order for the students to learn about what had occurred in this and other camps in Europe, they took part in an interactive tour through the entire compound. While the camp was liberated and put out of commission almost 74 years ago, the students could sense the lack of humanity, the torture, and the death of the people that had been imprisoned there.
In order to make sure that places like this are never reopened or built again, in order to make sure that the past does not repeat itself, we must never forget what happened and how low mankind can sink.
Text and Fotos by I.Scheutz
News by Topic
Tag Categories
News by Topic
Tag Categories