WVPU Students Get a Clear Lesson in Corporate Social Responsibility at Vöslauer
Jun. 19, 2019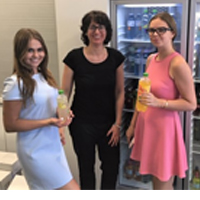 On 11th June 2019, Webster Vienna Graduate students taking the Management course in Corporate Responsibility and Society travelled with their instructor, Dr. Eva Zedlacher, to the Vöslauer Mineralwasser production facilities in Bad Vöslau. Herbert Schlossnikl, CEO and Head of Sustainability at the market leading Austrian mineral water producer, guided the students through the company's latest Corporate Social Responsibility (CSR) report and answered questions relating to challenges for effective CSR at Vöslauer. 
Afterwards, students were given a guided tour through the production plant, where they learned about how Vöslauer manages its supply chain and about how the company recycles PET and glass bottles to achieve its sustainability targets.
Dr. Zedlacher was delighted that Vöslauer took the time to show her class a little bit about how the company operates, saying that "this excursion offered a unique possibility to analyze effective CSR management and to see how it can work functionally as an integral part of the overall company mission." It was also a great opportunity for these students to interact with a central figure in such a well-known company and expand on their theoretical grounding outside of the classroom. Webster Vienna would like to extend its appreciation to Vöslauer and in particular to Jenny, who served as a highly committed guide for this eye-opening trip!
***
News by Topic
Tag Categories
News by Topic
Tag Categories