WVPU Welcomes Back Dr. Manuel Morales
Jul. 9, 2019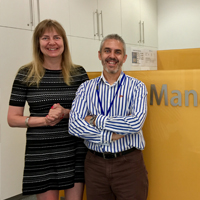 Research on Sustainability and the "Internet of Things" in Hotels
The business and management department was very pleased to welcome back guest researcher Dr. Manuel Morales of the Universidad Pontificia Comillas in Madrid, Spain for his second research stay at WVPU this summer. Dr. Morales is working with WVPU's Dr. Pernille Eskerod on an international research team with Dr. Svend Hollensen of the University of Southern Denmark and Dr. Jesús Arteaga Ortiz of the Universidad de Las Palmas de Gran Canaria; together, the team is working on a project about sustainability and IoT (the Internet of things) in the hotel industry. Internet of things refers to the interconnection and embedding of computing devices in everyday objects. The team is investigating how sustainability relates to IoT initiatives, such as sensors which can monitor and control room temperature and air conditioning in hotels, and how such technology can help said hotels become more profitable.
In May 2019 Dr. Morales interviewed the owner of Das Capri Hotel, Mr. Georg Pastuszyn. The hotel is located near WVPU's home, Palais Wenkheim, on Praterstrasse in Vienna's second district. At Das Capri Hotel, the owner, management and staff are very conscious about sustainability and are using IoT and other new technologies to enhance customer experience and optimize energy and water consumption. The researcher team is conducting further interviews at hotels in Spain.
Both researchers are happy that WVPU can function as a meeting point and that data can be collected in both countries. The opportunity to meet in person and work face-to-face has "significantly accelerated the research process and the quality of the outcomes so far," says Dr. Eskerod, and Dr. Morales has found his trips to Vienna fruitful, thanking WVPU "for this great opportunity to advance our research and for providing this excellent environment for collaboration."
The research team intends to publish the research findings in a peer-reviewed article for an international journal on sustainability, and to use them as stepping stones for continued collaborative research.
Find out more about research conducted by business and management department faculty and their collaborators in the research news archive!
News by Topic
Tag Categories
News by Topic
Tag Categories