Webster Athens Completes First Virtual Study Abroad Course
Oct. 15, 2020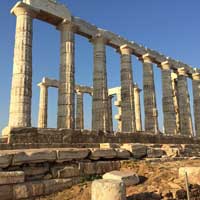 Webster Athens has successfully completed its first virtual study abroad course during Fall 1. Professor Stanley Sfekas engaged students in the Virtual Greek Mythology and Religion course through online class discussions and lectures, virtual tours of archaeological sites, museums and educational videos.
This success was evident in how students reacted to the course. Webster student Blain McVey noted that the course in the eight weeks offered a little "Tour de Ancient Greece" and claimed that Sfekas incorporated a wide variety of topics and issues into the curriculum. "We learned more than just who the gods were and how they interacted with each other," said McVey. "We sampled different schools of thought, which attempted to explain what these ancient myths meant. While some schools focused on the historical and anthropological aspects, others dove deeper into the human psyche."
"One of the strongest aspects of the course was that Sfekas allowed us to write about the topics we found most interesting. In this way, I was able to explore the information he provided and make my own observations about Ancient Greek culture. I highly recommend this class because it broadened my knowledge about Greek myths, how they impacted the culture, and how they still influence us today," said McVey.  
Another Webster student, Anah Crawford, had this to say about her experience. "The class went very well. I learned a lot of new material about Greek mythology, religion and culture and I was able to do so in a comfortable classroom environment despite the course being held over zoom," said Crawford. "The course did not feel like it was lacking anything and was executed just as well as a class in person would have been. My professor, Dr. Sfekas, was very knowledgeable about the information presented in the course and was able to make it interesting despite the heavy amount of lecture. The amount of work expected from us in the course was reasonable and I was able to easily apply the information learned to the assignments that were given. Overall, I was satisfied with my professor and the course as a whole."
The Greek Mythology and Religion course was already offered as part of the curriculum in Athens. This course and the Modern Greek Society and Culture course were selected and modified to give students this experience to virtually travel while staying at home. These courses allow students to learn about Greece's historical past, which laid the foundations for Western civilization, culture, mythology, religion, philosophy, art, literature and political institutions.  
"I enjoyed teaching the virtual Greek Myth and Religion course," said Sfekas. "The students were interested and engaged in the lectures.  Using the share-screen I presented them with the same Power-Point lectures and videos I use in the classroom, so we were able using Zoom to duplicate key features of live lectures. The students were interested in Greek culture, and wrote creatively in their essays."
"The virtual courses developed out of a need to keep students engaged in international cultural experiences- since traveling abroad has been disrupted at this time," said Dina Skias, the director of the Odyssey in Athens program." The courses are not meant to substitute a study abroad experience, but to enhance it when students eventually study abroad. It is meant to be a stepping-stone, preparing students for their abroad experience. We will continue to offer both courses during spring and summer 2021. Also, students who participate in either of the virtual courses will automatically receive a $500 housing scholarship for when they study abroad in Athens. This is a great opportunity to earn academic credit, taking interesting courses that will prepare students for their study abroad in Greece and receive a $500 housing scholarship for future study abroad with us."
In addition to the virtual courses, Webster Athens offers a series of virtual internships in the following areas: Retail Business Social Media Promotion, Business to Business Research & Arrangements, Retail Business Analysis, and Tourism Operations Project Management. Students will be paired with Greek and international companies based on their interests, skills and background. 
This is another excellent opportunity to earn academic credits, and gain valuable international experience, build one's resume without having to leave home. The internships are being run now during Fall 2 and will continue throughout the spring and summer of 2021.
For more information on the virtual course and internship, go to the Webster Athens website. 
tags:  extended campus, faculty, global, webster today, study abroad, athens, students, academic,
News by Topic
Tag Categories
News by Topic
Tag Categories