Dreams Come True at Webster Vienna
Mar. 27, 2020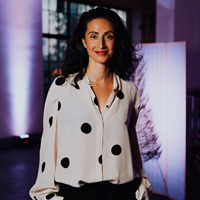 Maryam Yeganehfar is Persian, a mother, an entrepreneur, and the creative head of her own business in events production (uniquely named "YamYam"). It all started when she decided to enroll in Webster Vienna. "I always wanted to study at an American university. Knowing that a former university teacher at the University of Vienna recommended Webster Vienna Private University with its campus in Vienna was the best next step after graduating from high school. He did right, so did I", recalls Yeganehfar.
A student of the class of 2000, with a BA in Management with an Emphasis in Marketing, Yeganehfar confesses that her time as Webster Vienna was unforgettable. "I felt at home, safe and I learned how much fun education could be, the mix of classes was perfect, studying with students of a variety of nationalities made me feel safe, I was amongst other "foreigners"in Austria," she states.
Webster Vienna taught her how to be self-aware, to go after a goal, to be open to possibilities, and to think outside the box. She recalls, "I loved the small classes and the attention that we got from our professors. The international vibe was very inspiring". 
Drawing on her education, Yeganehfar put together a promising business plan and ultimately founded YamYam. This company provides many various and unique events, such as the shopping event "Evening of Dinky Delights." She admits it was a challenge for her, but an enjoyable one. "When I started the company, it was fairly easy because I could do most of the work myself. I did not have a high investment cost. I was also young and didn't need much," she said.
Today, she acknowledges, "I am so proud, humbled, and grateful about the path that my life has taken with this step into the world of running my own business. It is small but always growing, and we get to focus on events and unique design projects. I am happy, and most of all, fulfilled, I would not want to do anything else or be at any other point in my life." 
Her Webster Vienna life will never end, she laughs, because she is still in touch with many Webster Vienna alumni. "Just now, I am expecting one of my friends from Webster for coffee, as he is visiting Vienna," she mentions. 
Webster Vienna taught her to be open, ambitious and focused. "Do everything with love. Try to find out what you love to do and what you are good at. Find out what makes you happy. Everything else will fall into place," she concludes.
To check out the fantastic work of Maryam and her team, visit her website, or follow her on Facebook @yamyameventproduction. 
 
tags:  global, alumni, entrepreneurship, vienna, vienna-alumni,
News by Topic
Tag Categories
News by Topic
Tag Categories