LEADS in the Christmas Spirit!
Dec. 18, 2019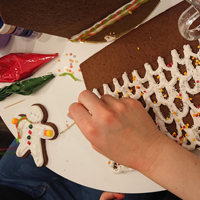 The Webster Vienna LEADS program is in the Christmas Spirit! After presenting the LEADS Fall 2019 semester project, students took some time out of their busy studying schedule to build gingerbread houses together. Teams of 3 or 4 had to figure out how to construct the houses, decide together on how to decorate it, and make sure it was stable enough to transport.
The Cake Tree, a local bakery in the second district, provided all materials and great support and advice through the evening. 
You can see some of the houses on display through December 20, 2019 at either the Front Desk or the Student Lounge.
Happy Holidays from all of us in LEADS!
Webster LEADS is an on-going application of scholarship and practical leadership experience empowering our diverse student population to develop and excel as global citizens. Through a collaborative process between our students, staff, faculty, and the communities where we live and serve, we prepare our students with the knowledge, education and development to assume leadership on campus, in society, and in the global workforce. More information on the program, and how to join, is available here.
News by Topic
Tag Categories
News by Topic
Tag Categories