Moving with the Times: Webster Vienna Private University
May. 5, 2020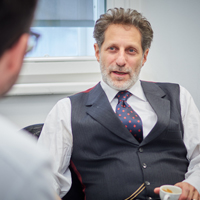 The OPEC Bulletinvisited Webster Vienna Private University (WVPU) in the heart of Vienna to uncover the changes the oldest private university in the city has undergone and its historical link to OPEC. 
Samuel R Schubert's office looks like a typical professor's room. Papers and books cover every surface. A coffee machine is placed prominently on the coffee table. Home to great thoughts and ideas.
Schubert, the Associate Director of Webster Vienna Private University (WVPU) fits right in. A man who has accomplished a lot during his tenure at the university, he is friendly with a ready smile and natty clothes befitting his position.
The building itself, neoclassical Palais Wenkheim, on Praterstrasse, is reminiscent of the Vienna's cultural glory days, including old-style grace and charm with spectacular architecture and a beautiful, brightly lit central glassed-in courtyard. The university moved to this site in 2014 and opened its first dormitory in Vienna after outgrowing its old campus on Morocannergasse, in Vienna's 3rd district.
Long history
The Vienna branch of the American-based university was the 'new kid in town', alone in its status as a non-state-funded university when it arrived. It has called Vienna home since 1981, after being invited by the mayor at the time to move into town.
Chancellor Bruno Kreisky, Austria's foreign minister from 1959 to 1966 and chancellor from 1970 to 1983, was determined to develop an international community in the sleepy city, and his efforts were backed by the mayor at the time, Leopold Gratz. This was supported by many people from the Austrian community, including international Western-educated diplomats who were looking for the opportunity to bring institutions to the city.
"This was the big drive, and I believe it was, interestingly enough, across party lines," said Schubert. 
There were a lot of things evolving at that time, not just in Vienna but in the rest of the world. There is a correlation in time when the UN was invited and opened up, when OPEC was operating in the country, and when Vienna was becoming an international city.
"The UN and OPEC were the most important organizations in that vein and highly relevant to that development ... these two brought an intriguing and exciting international community which found a good location in Central Europe at the height of the Cold War," said Schubert.
Austria's neutrality meant it had very good relations with the East as well as the West at that time, he adds.
With the arrival of international organizations and universities like Webster, Vienna became a truly international cosmopolitan hub for the international civil service, for non-governmental organizations (NGOs), for intergovernmental organizations (IGOs), for politics and for meetings, he says. 
"It became a venue and the city adapted and changed and grew younger and younger with time.
"I don't know that it was ready for a big international community, and I don't know that it ever really fully adapted or accepted to having that," said Schubert, "However, it transformed accordingly." 
He adds the city of 1.9 million now has more than 350,000 residents who are not citizens of Austria.
The arrival of international organizations and international NGOs led to the creation of an international cosmopolitan community foundation that included the opening of international schools.
"So, I think that all of this together, what happened to Webster University was very much part of that first wave which came in and opened up Vienna. Austria was already doing quite well by the 80s." said Schubert.
Vienna campus 
The Vienna campus is one of Webster's oldest, with Geneva being the oldest, and it is the only fully accredited private university in Webster's network in Europe.
"A degree from Webster Vienna is accredited in both the USA and Austria, and recognized everywhere in the world," according to the Webster website. 
At that time, it was not the norm for American universities to branch out all over the world, says Schubert. Webster was one of the pioneers. It started in Geneva and Vienna was the next UN city and so it made perfect sense to expand to Vienna, he adds. 
"It was quite a thing," said Schubert. "The first non- state-funded university opened up. It was highly innovative for Vienna in 1981, quite a highlight!" 
Schubert says that at that time the US concept of an MBA (Masters of Business Administration) program was a highly innovative idea in a city where history and tradition play a massive role. The university offered the first accredited MBA program in Austria in 1985. 
Interest grew over time not just from the ex-pat community, but also from the Austrians, as Vienna was becoming an international city. 
"There's a lot of history here," said Schubert. "Austria changed dramatically from 1981, when Webster set up shop, to the late '90s. Not only did we have the collapse of the Soviet Union, there was also Mayor Helmut Zilk (1984–94) who refurbished the whole city." 

The Bologna Process, a series of ministerial meetings and agreements among European countries meant to ensure comparable standards and quality in higher education, was taking place and led to the signing of the Bologna Declaration by education ministers from 29 European countries in 1999. Europe was transforming. Austria was part of that; it joined the EU in 1995 and developments were underway within the country which moved to open up the academic system and other institutions. 
The problem with breaking new ground is that there are always legal implications, says Schubert. Allowing privatized education or applied science education meant it had to be regulated, and thus began a series of processes to set up legal systems and frameworks for the accreditation of universities that were not classic public institutions. 
"And in that very first scenario, Webster University was part of that process. It is one of the first institutions that fell under this domain,"said Schubert.
As the private university legal framework was established, distinctions started to form between universities of applied sciences, full-fledged, research-led universities and various other types of institutes. Webster received full accreditation as a private university at the very first moment it was allowed in 2001, says Schubert, and again most recently in 2016. 
He adds the laws have been tightened and changed, making accreditation more difficult. Over time the Austrian authorities have required more and more research-oriented focus and output.  
The most recent accreditation in 2016 was preceded by questions by authorities, which led current director Prof Dr Johannes Pollak and Schubert, the associate director, to implement key upgrades required under the regulatory framework. 
"More specifically, making sure there is integration of research in teaching, and guaranteeing there is research output, guaranteeing students are engaged in the entire process, that there is an autonomous governance structure, that faculty are involved deeply, all the things you would expect from a fully accredited university," said Schubert. 
In fact, the university has made its biggest transformation since 2016, when Pollak became director and Schubert became associate director. The new team, which included a new supervisory board in the form of a University Council and key hires made throughout the organization, implemented a series of reforms, which constituted a massive change in institutional culture. 
It has gone from being a very casual and familiar environment, which fit at the time it was set up — to meeting the demands of a highly growing competitive market, which required professional research output, professional partners and management of significant resources in an Austrian legal environment, he says. 
"I feel that the most important thing we've done is professionalize this institution to account for the larger number of students," said Schubert. "There's a very different team of people than we had here before and a very different idea of what they want to do and how. And this has made all the difference. So we now have a true research-led environment, which brings research into the classroom that expects and challenges students to understand where we are in the world, the problems we are going to deal with." 
This philosophy recognizes that only a very small percentage of students will head to the future of PhD laboratory work and most will go into business or international civil service. 
"We balance the research and the theoretical, if you like, with the folks in the methodological skills, fungible skills that are necessary in real-world to succeed," said Schubert. "Sometimes that means very practical things, sometimes that means state-of-the-art things that are not yet practical from data analysis and coding, which are skills that can later be used in a number of fields, to writing, speaking, learning how to communicate. This has been a big transformation. The university has been changing throughout the years. It's had to evolve greatly and it continues to evolve, this is our strength to develop and evolve."
"It is no longer a study abroad location, but a true cosmopolitan university. Every classroom has multiple nationalities and multiple religions. All the classes are really a microcosm of the global community, and that is very relevant." said Schubert.
Programs and Development 
The university has seen steady growth over the years, says Schubert, expanding from about 120 students in 1981 to about 600 today. 
The origin of students has also been changing. The percentage of Austrian students has gone up and down over the years, with it being higher at the beginning and now than in the middle, he says. 
Today the student body is about 18 percent, Austrian, another 28 percent are European Union citizens, with a further 21 percent from the 'European neighbourhood'. 
"Basically, what that means is two-thirds of the student body is European in some way or Eurasian, excluding the Middle East," said Schubert. The number of Middle Eastern students has also grown somewhat in recent years, and there is a Latin American group, but it is very small. 
Statistically, there is on average students from about 70 countries (currently 77) speaking about 50 mother tongues. 
"The diversity of nationalities is fantastic and the university prides itself on creating the global citizen, which more or less means the cosmopolitan, internationally educated individual that understands and can adapt around the world," said Schubert, including understanding social responsibility and how to solve problems in the context of an international environment. "They are basically tomorrow's leaders and do it with a social conscience." 
Originally the university offered an MBA, then expanded to include undergraduate degrees for educating people in the 18–22-year-old range in the first cycle of their tertiary education, says Schubert. 
In 1981 all professors were external lecturers coming from various parts of the industry. Today, there are 27 full-time faculty members working in four primary academic departments and a center for liberal arts, which together provide not only teaching and personal advising to students, but run their own research projects, some- times with students, he says. 
Currently, the university has anInternational Relations Department; Business and ManagementDepartment;Psychology Department; and Media and CommunicationsDepartment. The latter offers two undergraduate programmes: traditional media communications and a new programme which was recently accredited called strategic communication. 
"This is one of the most innovative programs to be seen in the Austrian market," said Schubert. "It focuses on how you package and put together programs to strategically develop ideas and put them out to the world, something that could be of great value to all our corporate partners. 
"If it succeeds, which we expect it to, then we would look at a graduate direction and various levels of executive training in that area," said Schubert." International relations and business have been the two core areas which have been stable over time, though they are not the only degree programmes the university offers."
The psychology programme has been growing, and offers an undergraduate degree in psychology and graduate degree in counselling. The cash cow are business and management programmes, as in any university, he adds. 
Meanwhile, the international relations programme is the single biggest programme and has been a typical mainstay of Webster University, establishing a grand reputation in areas where universities in Austria and Central Europe have not yet cornered the market. 
"It's looking at international diplomacy, security matters, energy regional issues, it brings in a lot of expertise from both academics and scholars but also diplomats and people from IOs," said Schubert.
Their approach includes students working one-on-one with industry and NGOs to solve critical problems. 
"Today we had a discussion with one member of the petroleum sector about their own needs to deal with sustainability issues, as the market is demanding it ... They have issues about waste, use, sustainability and so we were talking about approaches to that and what the university can do to help," said Schubert. "There are many ways to do this, not just straight-out education in the classic sense of the term, but in terms of bringing national and international corporate problems into the classrooms and letting students try to tackle them with faculty."
Local companies and NGOs bring in problems for the students to try and solve. This includes an NGO day, at which heads of seven major NGOs come and listen to presentations by students who have been working on specific problems provided to them. 
Energy issues have taken on an intensified focus within the international relations programme. It is an area in which both Pollak and Schubert are very engaged. In fact, the duo recently wrote a book on European Union energy policy. 
And the energy angle is a main reason Webster has been interested in collaborating with OPEC. 
Webster and OPEC 
"Back then we reached out to OPEC and that's something we've been very interested in," said Schubert. "Johannes (Pollak) from the standpoint of EU and EU policy and myself as a question of resource wars and international security." 
The Webster-OPEC story is about a decade old. Prior to 2009 or 2010, the university came under pressure to hire research faculty to fulfil new laws. Pollak was senior professor of research in the international relations programme and Schubert was hired as a researcher and became chair of the department in 2010. 
"We turned a programme that had on average 60–70 students up to well over 100 and have sustained it at that level ever since," said Schubert.
The new team at Webster did a lot of reforming, changing faculty, and applying stricter rigors, with the understanding that students who went to the university needed to have a reputation as being competent and rigorous. 
"Working in the energy area and familiar with this environment, we reached out to OPEC to work out a relationship where we could get our students internships at OPEC," said Schubert."This was difficult because OPEC had standard operating procedures where only members of OPEC could come in as interns, so this required discussions inside OPEC and justifications and we explained we had a focal point of research on energy. This was very important for us, we wanted our students to be tackling the big issues around energy and there are a lot of issues around energy. Many of them are data-intensive and many require a good understanding of politics and economics and notions of business and how things work, as well as modelling and media." 
They found a keen interest in OPEC at certain times of the year to have interns. Thus a programme was set up, defined together with OPEC's leadership, setting standards which would be followed and creating a process by which students could be nominated and elected. 
The university makes recommendations and OPEC chooses individuals for internships, says Schubert. Although interns don't come to OPEC every year and all the time, the collaboration remains active. 
"We can point to really good results. OPEC has responded to us with wow, how great these students are. This has led to three or four of them being directly employed by OPEC and has also led to an offer for one to go, but she went to her own country to work in the energy ministry, which is even better," said Schubert. "So our people gain from it, our students gain from it, our students converted it into the quality performance which OPEC recognized and rewarded down the line to those individuals and that is exactly what we would have always wanted." 
The relationship between OPEC and Webster has been built up over time by sitting together and discussing, he says. The primary goal is to find the best balance for both students and partners. 
OPEC Secretary-General, Mohammad Sanusi Barkindo, also sits on the Advisory Board of Webster, deepening this relationship even more. 
"OPEC is a very relevant player in the recent history of Vienna and we are part of that history and so for us, there is a very strong, reasonable marriage of common interest," said Schubert.
News by Topic
Tag Categories
News by Topic
Tag Categories