Pursuing a Passion at Webster Vienna
Dec. 13, 2019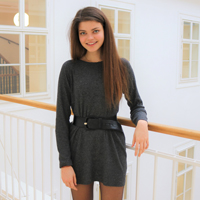 Not many students have achieved so much in as short of a timeframe as Alessandra Flöck has. Invigorated by her passion for Psychology, she is not only receiving top grades results in all of her classes but is also conducting research with her main interest being the workings of the unconscious mind within the Neuroscience field.
As part of an event organized by her high school, Flöck met Dr. Peter Walla – the Head of Webster Vienna's Psychology department – and discovered the 'biological' side of Psychology. She explains, "I always knew that my life has to do something with Psychology, but wasn't sure what exactly. Some notion about counseling psychology used to be my only understanding of the field until I found out about the biological side of it from Dr. Walla". Her particular interest was and still is to understand all the functions of the brain, down to the most minuscule structure of ion-channels. This interest supplemented her ultimate decision to study research-oriented psychology.
Born and raised in Vienna, she already knew about Webster Vienna Private University, but becoming familiar with the biological aspects of the Psychology discipline simplified her decision to enroll at Webster Vienna immensely, "other than this acquaintance being the origin for my interest in psychology, it was also my first actual contact with Webster University".
Flöck (or Sandra, as she is known to her fellow students), spends most of her time on campus in the CANBe Lab at Webster Vienna: a lab where any student can conduct their own experiments and obtain physiological measurements as well as behavioral data, then utilize the available software for analysis. "My first year at Webster Vienna was already very eventful. I had the opportunity to gain a lot of firsthand lab-experience – designing studies, conducting experiments with EEG, and analyzing data", said Flöck.
One of the most memorable experiences was the NeuroIs conference, which Flöck was invited to attend alongside her lab-partner, Samuil Pavlevchev, by Dr. Peter Walla. There, they presented a paper about the effects of body positions on word-recognition performance, which Flöck is also heavily involved in with the WVPU Philosophy club. "In retrospective, my university experience thus far has been much richer and diverse than I had expected it to be," she admits.
"After graduating, I will certainly pursue a Master's and Doctor's degree in Neuroscience, and even though I would be happy to remain in Vienna, I would not be opposed to going away if an opportunity presented itself," she concludes. Flöck knows that nothing in life comes that easy, and there is always a long way to go to attain results. Indeed one of the basic facts of education and the academic world is that they do not deliver immediate results. For now, Flöck is happy to make the best of each day on her decade-long academic path, achieving her goals along the way and appreciating each small step of the way.
***
News by Topic
Tag Categories
News by Topic
Tag Categories