Webster Vienna Students Self-Discovery Journey
Mar. 4, 2020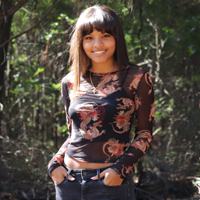 Whenever Kloe Brill envisions her future, she sees herself traveling and exploring other cultures, which motivates her and leads her to self-discovery. Driven by these emotions, Brill discovered Webster Vienna Private University and Vienna, Austria.
Brill chose Austria because of its beautiful architecture, nature, and culinary prowess. "I am so happy about moving to Austria because of its proximity to other countries, which will allow me of a lifetime to truly explore and experience Europe," said Brill. Moving to another country where an unknown language is spoken is intimidating for Brill; however, she is ready for the challenge.
Brill particularly wanted to attend Webster Vienna, as it is paramount for her to learn in an international environment. As she studies towards her degree in Media and Communication, she aspires to gain the skills needed as a respectable journalist. Brill believes that Webster Vienna will provide her with a solid foundation, through its international mindset and diverse ideologies, to become an investigative journalist.
The necessity to travel and adventure will always be a monumental part of Brill's life. During the summer of 2019, she volunteered in Costa Rica and lived with a host family for six weeks. During this time, she worked with members of the community on service projects, which involved considerable communication.
"I got over my fear of talking to strangers by facing it head-on. The feeling of speaking to someone in their mother tongue is daunting, " said Brill. In turn, it enabled me to have a huge perspective change during this experience. I learned that most people understand and that it is okay to make mistakes because that is the only way I can learn. When I got over this fear, my Spanish began to improve dramatically."
Brill defines herself by exploring other cultures and absorbing their characteristics, which permits her to feel so comfortable in international settings. She is constantly learning and improving on personal goals by pushing herself out of her comfort zone to explore what she does not know.
Travel is what makes her who she is. "I believe as a global citizen, and I have the responsibility to travel and meet new people and discover different cultures. I want to enrich my global perspective and be able to make cross-cultural connections. My goal in life is to enjoy the human experience and to spread peace," said Brill. 
Brill's goal at Webster Vienna is to be a cultured individual: she wants to socialize, to immerse herself in Austrian culture, and to make friends with people from different perspectives.
tags:  global, vienna, student, extended campus,
News by Topic
Tag Categories
News by Topic
Tag Categories