Webster Vienna Student Earns International Distinction Award
Apr. 29, 2020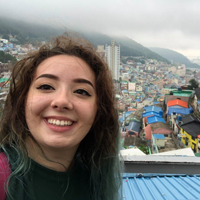 Webster Vienna Private University congratulates senior Daisy James-Weidner, one of the three recipients of the Webster International Distinction Award.  
Ms. James-Weidner studies Media Communications with an emphasis in Production, alongside two minors in German and International Relations. An Ohio, USA native, she moved to Austria in the fall of 2016 to study at Webster Vienna. While on campus, she has been an active and enthusiastic leader in our community. 
Taking to heart Webster University's global citizenship ideals, Ms. James-Weidner studied abroad at the Webster Groves campus and at Yonsei University, one of the top schools in South Korea. 
Among her many accomplishments, Ms. James-Weidner is a member of the  Sigma Iota Rho Honor Society  for her academic performance in the field of International Relations and has been offered an internship in Los Angeles, California after completing her degree this May. 
The International Distinction Award recognizes extraordinary undergraduate students who successfully completed their degree requirements and attritional components of the international education (second language proficiency, at least one term of study abroad and an international field work/internship). 
News by Topic
Tag Categories
News by Topic
Tag Categories