Webster Vienna Students Gain Insight into Modern Business Challenges
Feb. 5, 2020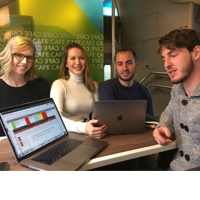 Engaging in Corporate Social Responsibility (CSR) is one of the greatest forthcoming challenges and ethical concerns for modern business. As a part of Webster Vienna's graduate elective course Corporate Responsibility and Society, our MBA students Bailey, Maksym, Inna, and Fatmir gained insight into ALDI SOUTH Group's CSR practices. ALDI SOUTH Group is better known in Austria as HOFER, the popular discount supermarket chain.  
On December 17th, 2019, the class was invited to present and discuss their reports on the use of sustainable fibers at the ALDI SOUTH Group's International Buying and Corporate Responsibility headquarters in Salzburg. Webster Vienna students demonstrated not only their expertise on sustainable fibers but also their well-honed presentation skills.
This gathering, spearheaded by Dr. Eva Zedlacher, Webster Vienna's Assistant Professor of Management, was quite inspirational. "CSR is becoming increasingly important - not only in response to climate change and business ethics, but also as a potential job field, and younger, purpose-driven generations simply know and care more about the ethics of their prospective employers," stated  Dr. Zedlacher.
Following the presentation, students enjoyed the Salzburger Christkindl Market, toasting a successful and interesting day.
On behalf of Webster Vienna, special gratitude goes to the Corporate Responsibility International Department of the ALDI SOUTH Group for making this insight possible!
News by Topic
Tag Categories
News by Topic
Tag Categories