Webster Vienna Students Network with the Delegation of the EU to the International Organizations in Vienna
Feb. 20, 2020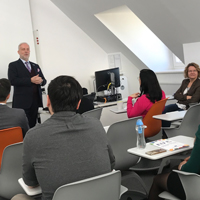 The career lunch on careers in diplomacy and public service was a great networking event held for students this week.
Speakers, Mr. Alain Matton and Ms. Paula Mercado of the Delegation of the European Union to the International Organizations in Vienna, spoke to their own experiences working for the Delegation and offered insight as to how it is to work for such an institution.
One important piece of advice to take away from Mr. Matton was to always remember to have perspective, have a plan, and have ambition.
Thank you to all who came and thank you to Mr. Matton and Ms. Mercado for speaking with us!
***
News by Topic
Tag Categories
News by Topic
Tag Categories