At Webster Vienna, You Have to Do It Right
Jan. 29, 2020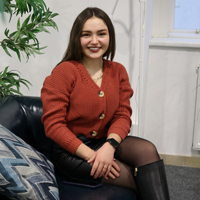 Buoyed by her passion for Psychology, 19-year-old North Macedonian student Fatlinda Idrizi Demiri, had, what she considers to be, the amazing fortune to meet Prof. Dr. Peter Walla, Department Head of Psychology at Webster Vienna Private University. She enthuses that Dr. Walla encouraged her to "leverage her unique skills, abilities, and privileges because knowledge and education of a person is a lifelong process. There are always challenges, whether it's building a strong career or a better self".
Although she had a choice of universities to attend, Idrizi Demiri attests that she made the right decision in coming to Vienna. "My father used to say to me that everything I pursue is my responsibility – you have to do it right, or not start at all," she recalls, "Attending Webster Vienna Private University was my best choice, I will try to keep up the momentum with the best academic success I can accomplish".
Helping people begin a transformation into unconditionally loving, tolerant and compassionate beings is one of her goals; choosing to study Psychology is part of her methodology, as she states: "I've always been curious to know what people with psychological disorders feel when they are being prejudiced".
For her, Webster Vienna provides something unlike any other university experience: the first concrete step to fulfilling her dream of becoming a neurosurgeon. "People are dying every day from brain abnormalities. The number is growing frequently. Learning to live with health problems is more difficult when someone experiences prejudice. These prejudices are often caused by stigma which can lead to bigger problems, including the abuse of human rights, damaging social relationships, reducing self-esteem and dignity." She clarifies, "and this is the reason why neuroscientists have recently begun to probe the neural basis of prejudice and stereotyping to identify the processes, through which these biases form influence human behavior. This is why I am so fascinated by psychology!"
Idrizi Demiri admits that, as a freshman at Webster Vienna, she is having the time of her life. She is particularly thrilled with the university's hands-on approach of providing students with opportunities to work with professors who are not only experts in their field, but who also care about students' success.
Being an exceptional student academically means that, to her advantage, Idrizi Demiri seems to have no problem obtaining scholarships. She has received not one but three scholarships since her first semester. She not only actively assist Prof. Dr. Walla with his research but also volunteers for the Austrian Red Cross, which she considers a fantastic opportunity to confront real-world problems. "This summer, I am also applying for an internship on the project 'Genetic and Molecular Basis of Neurodevelopmental Disorders'", she notes. Coming from a country where the clinical conditions could do with improvement only inspires her to continue working and studying hard.
"People's unconsciousness is unlimited", she states, then quotes Freud, " 'The unconscious mind governs behavior to a greater degree than people suspect'. The key to success is never to say bad things to yourself because if you try it once, you will do it again".
***
News by Topic
Tag Categories
News by Topic
Tag Categories