Webster Vienna's Talent on Display
Feb. 25, 2020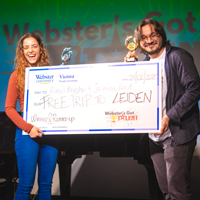 Webster's Got Talent, the annual talent show, was in full swing on Friday, February 21 at Ateliertheater (Burggasse 71, 1070 Vienna).
The evening began with a wonderful "magic" show by LEADS students Alessandro Pittiglio, Christof Wegiel and Mike Pliatsun. The Student Government Association's Events Officers, Dmitry Sten and Maria Skvoznova, hosted the event and interviewed each performer, providing light entertainment to keep the event running smoothly.
Six acts performed musical pieces and dance numbers for an audience of 90 students, staff, family and friends including: 
Yasmina Kaid: Performing her self-made mashup on her guitar
Abdylresul Meredov: Performing "Let Her Go" by Passenger on his guitar
Sandra Winne: Performing a musical theater piece called "Screw Loose"
Jayson Smith and Christine Murphy: Performing their comedic interpretation of Amy Winehouse and Freddy Mercury
Maeve Heumann: Performing her original composition "Conventry" on the piano
Giustino Boyer: Performing his self-made arrangement of "Suicide is Painless" from M.A.S.H.
Congratulations to Abdylresul Meredov and Yasmina Kaid for winning first and second place, respectively, in Webster's Got Talent 2020! They won a free trip to compete in the Webster European Summit, during which Webster Geneva, Webster Leiden, and Webster Vienna students compete in the Webster's Got Talent finale. 
Congratulations also to Christof Wegiel, the Webster Vienna Training Scholarship (WVTS) recipient in the Student Resource Center, for organizing the event. The WVTS program aims to provide students practical experience to students outside of the classroom.
The Student Resource Center would like to thank all of the volunteers for helping us make this event possible, including: Aika Maeda and Yui Fuchigami for photographing the event, Daria Zhdanova, Dilyana Pavlova, David Ilioski, Chloe Zhorne, Mike Pliatsun, Alessandro Pittiglio, Ali Rasulov, Valentyn Trehub, Natalia Hatarova, Anna Gorbatyuk, Raluca Temure, and Fermi Austrianto.
News by Topic
Tag Categories
News by Topic
Tag Categories