A Winning Sensation at Webster Vienna
Jan. 8, 2020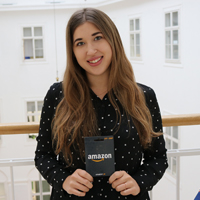 Blessed with skills and competencies in a variety of fields, it did not take long for Budapest-born Szonja Liza Benczik to realize that she had such a strong and varied skill set as a student at Webster Vienna Private University. She started her studies at Webster Vienna in 2018, pursuing an International Relations major with a minor in Management and History. At that time, Benczik never expected to compete in a design contest, much less win the WVPU sweatshirt-design challenge. 
The design contest was launched by WVPU's marketing department in the fall of 2019 and encouraged all students to submit their top designs for the 2020 university sweatshirts. With more than ten top entries, Benczik was chosen as a winner for her design. She received a 200 EUR gift card and a complimentary sweatshirt, in addition to the coolness factor of having everyone on campus wearing it. The contest was an exciting incentive, but Benczik has had a fond admiration of her new home while studying at WVPU.
It was Benczik's passion for beauty that drove her to Vienna; the architecture, culture, and diversity of the pursuits offered highly impressed her. She reveled in the opportunity to live and study in Vienna itself, WVPU offering Benczik another reason to study here – the American liberal arts system, through which students expand their knowledge in different fields and have the freedom to choose from a variety of classes based on their own interests. Benczik specifically chose to study International Relations in order to gain knowledge about our changing, interconnected world. Conveniently, Vienna was also a huge hub of international organizations.
"When I visited Vienna, I always thought that I would love to study at Webster Vienna Private University. I knew that it would be a wonderful opportunity to study in an American system in a more convenient location, and in a city that I was in love with. The stunning architecture of the campus, its small-size classes, state-of-art equipment, and diverse international community forged my wish to become a Webster Vienna student," she recalls. 
WVPU also gives her the opportunity to immerse herself deeper in cultural activities. She explains, "There are several opportunities for academic growth, such as guest lectures and workshops, visits to international organizations like the OSCE or the UN".
However, Benczik believes it is the student experience at WVPU that is the distinguishing feature of the University, with events like the sweatshirt design contest invigorating student engagement. "During my time at Webster Vienna, I participated in several on-campus events. My favorites were the charity bake sale, Spirit Week activities, and the sweatshirt design competition, where my design won", she states. We are certain that Benczik will continue to win during her studies at WVPU.
News by Topic
Tag Categories
News by Topic
Tag Categories