Standing on Principles of Inclusion and Diversity
Sep. 5, 2017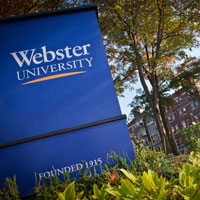 Webster University serves and strengthens a diverse community here in St. Louis as well as worldwide by improving lives through education. We stand on principles of inclusion and diversity and oppose any restriction to accessing education, often the principal pathway to a better future for many individuals we welcomed to our community.
Put into place through executive order five years ago, DACA enabled more than 800,000 children of undocumented immigrants to remain in our country. Thousands responded by seeking ways to better themselves and their families by pursuing various educational opportunities.
Many of these students who are aided by DACA are called dreamers, and with good reason. These students have embraced the goal to succeed against many odds and obstacles.
As educators who care about the well-being of these students, we signed on to a March letter from the American Council on Education along with the leaders of more than 600 universities asking the federal government to support DACA. As noted in that letter, many DACA students are giving to our society in multiple ways, including but not limited to economic contributions. Our question at that time remains the same as now: what is our responsibility to these students? Why should we limit their access to seeking knowledge and taking part in the betterment of our country?
As we noted in March, many of these students are now living in fear as the immigration policies of our country shift. We are witnessing an increased climate of divisiveness that influences life on our campuses. Fear and prejudice have no place on college campuses. We believe that education is the principal way to eradicate the corrosive effects of fear and prejudice, and getting the facts right about how these students contribute to society is the antidote to these problems.
Although some of the political rhetoric surrounding DACA may slip into the polarized politics of our times, in truth, resolution to this issue can be non-partisan. With the news that the executive branch will now allow a transition period of as long as two years for some DACA students, Congressional leaders can lead on the path to reform immigration law. They can assure that our nation does not abandon the dreamers. Missouri's Congressional leadership often finds a moderate path on such thorny issues. We urge them to lead the way toward creating welcoming, diverse, inclusive communities for these students throughout our country.
Elizabeth (Beth) J. Stroble
President
Julian Z. Schuster
Provost, Senior Vice President and Chief Operating Officer
tags:  announcement, home page, president, provost, diversity and inclusion, webster today,
News by Topic
Tag Categories
News by Topic
Tag Categories