Statement from President and Provost Regarding LGBTQ+ Policies
Feb. 23, 2017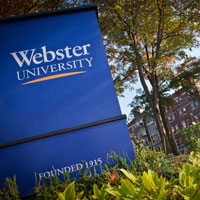 This week, President Donald Trump's office announced it was rolling back guidelines previously issued under President Barack Obama that extended protections regarding use by members of the LGBTQ+ communities of facilities at educational institutions. While this may be a troubling change of federal policy, we at Webster will maintain our commitment to working with the LGBTQ+ community and building on our values to becoming more inclusive.  
Webster has been a pioneer in assuring LGBTQ+ rights for decades, and our University has reached out to under-served communities since its inception. Webster University has had a student club for LGBTQ+ students for many years. Currently, it's called the Webster LGBTQ Alliance. The University also has hosted the longest-running annual Drag Ball in the St. Louis region for more than two decades.
In the past year, we have identified numerous restrooms on campus as all-gender facilities and continue to look for ways to add more. In the soon-to-be-completed Browning Hall, the interdisciplinary science building, several all-gender restrooms are being constructed. The Webster Student Government Association recently appointed a new ambassador for student inclusion, who is working with the Associate Vice President for Diversity and Inclusion to enhance the sense of belonging and engagement for all students, faculty and staff.
The University will continue to enforce its sexual harassment policies and will not tolerate any discrimination or bias directed toward any individual, regardless of gender identity. These rules appear both in the student code of conduct and in the employee handbook, and violations of those rules can lead to severe disciplinary action.
In the coming months, we will hold more discussions, more town halls, and encourage more on-campus dialogue, as we continue to engage on these important issues. Just next week, we are hosting our annual diversity and inclusion conference, which will discuss these very topics.
But we know that in these difficult times, this is about more than just enforcing policies and guidelines or putting up signs on restrooms. We need to stand together and show support for all members of our community. The recent vandalism of a Jewish cemetery in University City, located just a few miles from our home campus, was a disturbing reminder to us that there are those who express intolerance and hate in violent ways.
We encourage everyone to join in showing support to those in our community who feel threatened.  As we have done in the past we offer counseling for students who need extra support.
We will not tolerate bullying on our campus or in our community. At Webster University we stand by our policies, our history, and our culture, in all areas when we consider diversity and inclusion.  We also stand steadfast with our community. We know that with your support and a calm determination, we can uphold our core values as the best course as we move forward, together.  
tags:  home page, president, provost, webster today, diversity and inclusion, students, ,
News by Topic
Tag Categories
News by Topic
Tag Categories