Message to the Community about Community
Sep. 12, 2017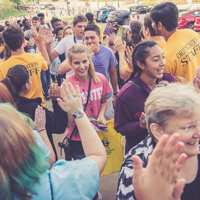 To the Webster University Community:
It is September 12th, and the new academic year for Webster has just begun. We are feeling tremendously encouraged by the numbers of new freshmen, by the largest grant yet received in the form of the $2.7 million U.S. Department of Education award, and the completion of Browning Hall, the Interdisciplinary Science Building.
Couple that with the excitement of so many sharing the rare occurrence of a total eclipse and the anticipation of the alumni Homecoming: Reunion & Family Weekend, and we know there is much reason for our Webster University community to celebrate.
And, today, the results of the most recent U.S. News and World Report college rankings are public, and Webster has again excelled in ways that elevate our ranking, this time to #23 among all Midwestern regional colleges and universities. Please accept our congratulations and gratitude for a job well done!
Yet, as a Webster colleague said this week, "There are so many things making me nervous." We shared concerns about developments in the Korean peninsula, we talked about the rescission of DACA, and we considered the damage and devastation from natural disasters—mudslides in Sierra Leone, wildfires in the Pacific Northwest, and hurricanes Harvey and Irma. We shared concerns about the timing of the Stockley case verdict and its impact here in St. Louis. And we shared concerns about a national environment where hate groups have targeted college campuses, including our own, with fliers promoting their efforts to divide us.
On a personal level and in our roles as members of communities, locally and globally, we each have concerns about any number of topics that threaten to divide us from each other when we may most need and seek community.
To paraphrase another colleague:
"We will most find community in the struggle to find community." 
This struggle is lived out in our interactions with each other, in the intentions to engage in order to learn and to understand, and in our generosity in meeting each other's needs.
The events and circumstances that make us apprehensive also give us opportunity to interact, to engage, to meet needs. And as a result, we will be bound by a shared sense of community that is Webster—locally and globally—at its best.
Let us help our colleagues and our students address their most pressing needs, whenever they and their families are in harm's way. Hurricane relief efforts are underway, and letter writing regarding DREAM act legislation will soon begin. And in our struggle to find community, may we find and strengthen the community that is WEBSTER.

Sincerely,
Elizabeth (Beth) J. Stroble
President
Julian Z. Schuster
Provost, Senior Vice President and Chief Operating Officer
tags:  home page, president, provost, webster life, community engagement, diversity and inclusion, global citizenship, webster today,
News by Topic
Tag Categories
News by Topic
Tag Categories