Webster's Graduate Programs Rank as Most Diverse for 24th Consecutive Year
Nov. 18, 2015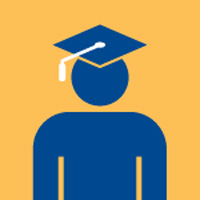 ST. LOUIS – Webster University was ranked by Diverse Issues in Higher Education (DIHE) as having the most diverse graduate degree-seeking student population in the United States among non-profit and public colleges and universities, and for having the most diverse graduate student population in the state of Missouri. DIHE's "Top 100 Degree Producers" survey for 2015 is the only national report of graduate degrees earned by African American, Hispanic, Asian American and Native American students by U.S. colleges and universities.
Webster has consistently achieved top rankings since DIHE began publishing the annual survey in 1991. Nearly 48 percent of all Webster graduate students self-identified as a minority ethnicity. The complete DIHE "Top 100" survey can be found online at http://diverseeducation.com/top100/.
"One hundred years ago, our founders created a college for women when higher education for women was the exception. From that foundation, Webster has grown to include a globally diverse student population of nearly 20,000 men and women, civilians and service members, traditional age undergraduates and working adults, including those who complete courses and degrees online," said Elizabeth (Beth) J. Stroble, president of the University. "The path to equity is continuous, and we must together continue the work of providing access to a diverse student population across Webster's campuses that graduates to successful careers that benefit them and their communities.  While we are proud to be recognized by Diverse Issues in Education, we know there is still much to do to achieve our mission."
This year, Webster ranked:
First among traditional private non-profit and public universities in all minority graduate degrees conferred
First in African American master's degrees nationally among non-profit and public institutions
First for graduate degrees conferred to African American, Native American and Asian American students for non-profit or public institutions in Missouri.
The only Missouri institution to be listed in the top 100 for Hispanic/Latino students and for the "all minorities" category.
"The recognition is testament to Webster's strong initiatives for increasing student success for members of many underrepresented groups, and we continually review and look for ways to improve those efforts," said Nicole Roach, associate vice president of Diversity and Inclusion.
"Webster's vision of success for our students is not possible without inclusion," added Julian Schuster, Webster's provost, senior vice president and chief operating officer. "In order to build a strong foundation for our students' futures, we must make sure that everyone has a stake in the success of their own future and that of their communities."
The survey used data provided by the U.S. Department of Education's National Center for Education Statistics collected for the 2013-2014 year. The survey only looked at degrees awarded and only counted students who are U.S. citizens.
Webster employees and alumni have been honored several times in the past few years during the annual St. Louis Business Journal's Diverse Business Leaders Awards. In 2013, the University also was honored by Paraquad, a non-profit organization that offers services to the disabled.
For the past four years, U.S. News & World Report ranked Webster University among the most economically diverse universities in the country. This ranking cites the high percentage of students receive Pell Grants, indicating they come from households that make less than $20,000 per year. According to the most current U.S. News rankings, 49 percent of the undergraduate students at Webster receive Pell grants.
Webster University offers more than 50 scholarships to students from under-represented groups. In September, the University awarded the Donald M. Suggs scholarship to two incoming freshman. The Suggs Scholarship is designed to increase the recruitment and retention of undergraduate students who typically are underrepresented at institutions of higher education. The University and the Rotary Club of St. Louis also awarded college scholarships to 26 high school seniors from 13 St. Louis public high schools this summer, most who come from under-represented groups.
tags:  academics, college of arts and sciences, college of fine arts, extended campus, featured, home page, president, provost, school of business and technology, school of communications, school of education, diversity and inclusion, webster today,
News by Topic
Tag Categories
News by Topic
Tag Categories