Webster University to Host Community Conversation on Diversity and Inclusion
Dec. 1, 2015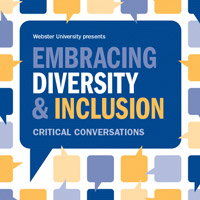 ST. LOUIS - Webster University will host "Embracing Diversity and Inclusion: Critical Conversations" on the Webster Groves home campus Feb. 29 and March 1, 2016, Webster University President Elizabeth (Beth) J. Stroble and Provost Julian Z. Schuster announced today.
Keynote addresses, student panel discussions, and facilitated dialogue sessions will be planned to create opportunities for those present to share their experiences, research, and emerging trends in creating communities that embrace diversity in ways that welcome and include.  The intention during these two days is to explore ways to move forward on the continuous path of equity, valuing the strength that comes from the diversity of the community.
Webster University has been cited for the economic diversity of the undergraduate student body, recognized for the past 24 years for the diversity of master's student graduates, and serves a globally diverse population on four continents: North America, Europe, Asia, and Africa.   From its groundbreaking origin as a women's college to the mission commitment to global citizenship, Webster enters its second century continuing to advance diversity and inclusion.  These critical conversations will strengthen the Webster University community and provide leadership on issues of diversity regionally, nationally, and globally.
Two nationally recognized leaders in diversity and inclusion will present and facilitate. Lee Gill, the associate vice president for Inclusion and Equity/Chief Diversity Officer from The University of Akron has facilitated a "Framework for Inclusive Excellence Strategic Road Map" to advance diversity and inclusion within the university's strategic plan.  His work to strengthen retention of African-American males has resulted in significant funding and one of the largest Black Male Summits in the country.  During his Akron tenure, the university's diversity council has twice been recognized as among the top 25 in the country.
Adis M. Vila is a National Association of Corporate Directors leadership fellow, senior fellow for the Institute for Cross Cultural Management at the Florida Institute for Technology and a member of The Alumni Society (Hispanic Executive).  Her 33 years as a corporate executive, government official, academic administrator, and attorney include serving as the first chief diversity officer at the United States Air Force Academy. Additional presenters will be announced shortly.
A local planning committee including associate vice president for Diversity, Inclusion, and Community Engagement Nicole Roach; Webster Staff Alliance chair Sanela Bejdic; Kate Parsons, professor and chair, Philosophy Department; Donavan Outten, associate vice president for Academic Affairs, Extended U. S. Campuses; and Webster students and alumni will assist Webster University leadership with details of the two days of critical conversations. 
RSVP
For more information, please visit www.webster.edu/diversity-inclusion. 
Register for conference events here.
tags:  announcement, home page, president, provost, webster life, webster today, diversity and inclusion,
News by Topic
Tag Categories
News by Topic
Tag Categories