Edgar Road to Reopen Friday
Aug. 12, 2015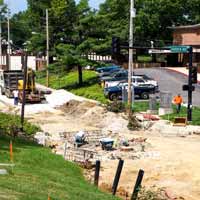 The City of Webster Groves' project to install a left-turn lane at Edgar Road and Garden Avenue is scheduled to be completed on Friday, Aug. 11, just three days before students return to campus for the Fall I term.
The road work was just one of several major construction projects that occurred during the summer to pave the way for construction of the Interdisciplinary Science Building. But not all of the work was for the new science building. Several buildings were also upgraded in the past few months and the grounds were spruced up with new flowers, trees and outdoor lighting.
"Summer is typically very busy for our buildings and ground crews, as this is optimal time of year to make repairs and upgrades and do significant landscaping while causing the least disruption to student lives," said Greg Gunderson, vice president and chief financial officer for Webster University. "But this year's work was particularly intense because of the additional construction for the new Interdisciplinary Science Building."
The left-turn lane work was a condition placed by the City Council on the future expansion of the parking garage earlier this year. Webster University funded the project; the City managed the work. When the roadway opens, stop signs will temporarily be at the intersection of Edgar and Garden until new traffic signals are delivered to the City for installation.
Other work happening this summer for the new building included the completion of the underground electrical infrastructure, which is needed to connect buildings on home campus to the new electrical substation at Garden and Old Orchard Road. The substation also was required for the Interdisciplinary Science Building as Ameren's existing electrical system is at capacity. The new substation is expected to go live on Sept. 1.
A groundbreaking ceremony for the new Interdisciplinary Science Building will be held on Sept. 9, with major construction anticipated to start in the spring of 2016.
Other major work has been occurring on campus this summer:
The University received approval for a student club storage shed, which was requested by students during last fall's Delegates Agenda. The shed is expected to be completed in the next month.
The Winifred Moore Auditorium was renovated, with new carpets, drapes, paint, restoration work on the seats, and a significant cleaning of the stained glass windows. The Sisters of Loretto will host a Centennial celebration in the newly renovated theater at 2:30 p.m. Nov. 1 to mark the exact 100th anniversary of the laying of the cornerstone to Webster Hall and the founding of the University.
The Old Orchard property is currently undergoing renovations, with new signage, carpets, ceiling tiles, paint, repairs and a new swipe card system to improve security.
A new boiler was installed in Maria Hall
New flowers were planted across campus, trees were trimmed and several new outdoor lampposts were installed across campus.
tags:  announcement, home page, president, provost, webster today,
News by Topic
Tag Categories
News by Topic
Tag Categories