Snapshot: Edgar completion paves way for science building
Aug. 19, 2015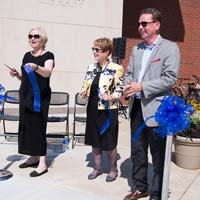 Attendees at Monday's joint ceremony between Webster University and the City of Webster Groves witnessed the latest step to creating facilities that better serve Webster students and the local community.
The completed construction of a southbound left-turn lane at Edgar Road and Garden Avenue, in front of the University's Emerson Library, is a milestone on the path to opening the future Interdisciplinary Science Building.
"The completion of this project represents another step in progress toward the Interdisciplinary Science Building, solid footing in continued partnership between Webster University and the City of Webster Groves, and a significant leap in strategically advancing our strength in the sciences," said President Elizabeth (Beth) J. Stroble. 
The left-turn lane was a condition enacted by the City of Webster Groves for Webster University's proposal to expand its parking garage, which is needed to meet the City's parking requirements for the new science building.
"Reaching this agreement was the right turn for  Webster University and for Webster Groves."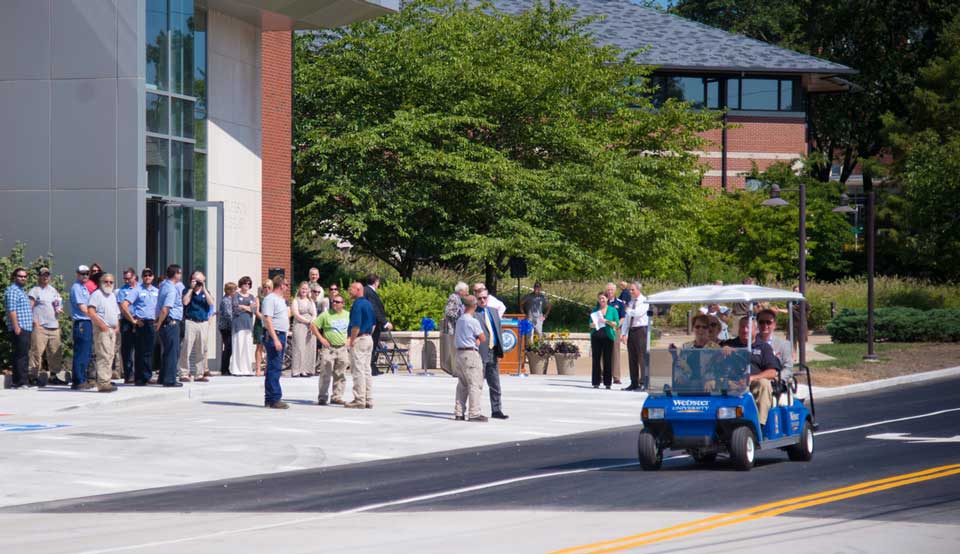 Webster Groves Mayor Gerry Welch noted the significance of this moment, hailing Webster University as an important institution and the city's largest employer. She spoke at the ceremony and helped "cut the ribbon" along with Stroble and Julian Schuster, Webster University's provost, senior vice president and chief operating officer.
In March, agreement was reached between the City of Webster Groves and Webster University about how to complete the road project by sharing resources and expertise. The University agreed to pay for the cost of the construction and both the City and the University selected a primary engineer to oversee the project. The city then managed the work.
In addition to the turn lane, work on a new electrical substation to support the new building has been going on all summer and is expected to be completed Sept. 1. 
"Each of these projects hold significance for Webster's future," Schuster said.
Construction for the science building is anticipated to start in spring of 2016. A groundbreaking ceremony is scheduled for 11:30 a.m. Sept. 9 on the grounds north of the East Academic Building. Parking Lot L-North will be closed that morning and will reopen once the lot has been cleared of the event items.
tags:  employee news, webster today, webster groves, community engagement, ISB,
News by Topic
Tag Categories
News by Topic
Tag Categories