Local Entrepreneurs Give Advice for Success
Dec. 10, 2015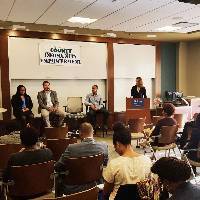 ST. LOUIS – Think big, set lofty goals, but focus on it one step at a time and don't be afraid to change direction.
Those were some of the messages shared by several community entrepreneurs during the "Finding Your Pathway to Success" Forum hosted by Webster University and the St. Louis County Office of Community Empowerment on Webster's home campus Wednesday morning.
Members of the community heard advice from Jaylen Bledsoe, the 17-year-old chief executive of The Jaylen D. Bledsoe Global Group, Bailey's Restaurants founder Dave Bailey, and attorney Sheena Hamilton, a rising star in the St. Louis legal community.
"This was an important discussion, one that focused on setting goals and expectations, and not giving up on your dreams," said Nicole Roach, associate vice president of Diversity, Inclusion and Community Engagement. "Each of the speakers is on a completely different career path, yet they all had a similar basic message, which is you have to remain focused and positive while being flexible and willing to change your goals in order to succeed."
Bledsoe spoke first, discussing how he founded a web design and tech consulting company when he was in the eighth grade and how he has grown that company to a $3 million business. He said that he never gave up on his dreams and tried to adapt to new challenges.
"We have a GPS (global positioning system) for life, and you can't get discouraged when your GPS says that it has to reroute you," Bledsoe said. "Don't get discouraged. It's still trying to get you to your destination."
He recommended that people have a reasonable goal that can be modified. But he stressed that everyone should know their value and to declare that value as non-negotiable.
"Business plans should be two pages long, not 20 pages," he said. "Start small and let your business grow organically, making small changes along the way. But remember to dream big."
He was then joined by Bailey and Hamilton. Bailey said that when he started his first restaurant in downtown St. Louis, he had a lot of detractors "including my own mother."
"But I knew that by doing the right thing, even if it was more expensive, would pay off in the end," Bailey said. "You have to think about the end game."
Today, Bailey owns Bailey's Chocolate Bar, Small Batch, Bridge Tap House & Wine Bar, The Fifth Wheel, Bailey's Range, and Rooster. In the past decade, his business has grown from 50 employees to 325 employees.
Hamilton, who was recently named the St. Louis County Bar Association's Outstanding Young Lawyer Award, the first African-American woman to ever receive the award, said that people have to remain very flexible in their goals. For example, she originally was a legal secretary, became interested in business law, and then through opportunities that presented themselves became a courtroom litigator.
"You have to decide what role you want to be in and you can't let others make that decision for you," she said. "It may take others a while to catch on to your path, but it's your path."
With its home campus in St. Louis, Missouri, USA, Webster University (www.webster.edu) comprises an action-oriented global network of faculty, staff, students and alumni who forge powerful bonds with each other and with their communities around the globe. Founded in 1915, Webster is a private non-profit university with almost 20,000 students studying at campus locations in North America, Europe, Asia and Africa and in a robust learning environment online. The university is committed to delivering high-quality learning experiences that transform students for global citizenship and individual excellence.
tags:  featured, home page, president, diversity and inclusion, community engagement, webster life, webster today,
News by Topic
Tag Categories
News by Topic
Tag Categories