Pixelpop Gaming Festival Returns to Webster
Sep. 10, 2015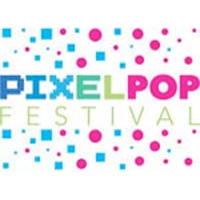 The School of Communications again welcomes video game developers and enthusiasts to campus for the Pixelpop Festival on Saturday and Sunday, Sept. 12-13. The two-day festival celebrates video games and game development and brings together local and national game developers and other industry professionals.
A variety of workshops and panels offer the opportunity to network with game developers and see the latest offerings from sponsors. Attendees can also see games on display and compete with others in game tournaments.
Webster University School of Communications alumni Jeremy Johnson (BA 2009, Interactive Digital Media)  of Dynamic Midwest Events & Promotions and Carol Mertz (BA 2008, Interactive Digital Media) of Happy Badger Studio worked together to bring the Pixelpop Festival back to Webster University.
The event attracted about 200 people last year. With increased marketing and the growing popularity of game design, the festival is expected to be even bigger in 2015. 
Games and Game Design is one of the fastest growing majors in the School of Communications.  
Events are scheduled in the East Academic Building. Registration begins at 9 a.m. each day with events beginning at 10 a.m. 
For more information, please visit pixelpopfestival.com.
tags:  academics, school of communications, webster life, webster today, games and game design,
News by Topic
Tag Categories
News by Topic
Tag Categories