Webster to be Recognized for Vet Success on Campus Program
Oct. 5, 2015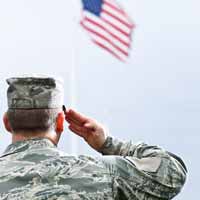 ST. LOUIS - Webster University is one of 10 universities in the country being visited by officials with the U.S. Department of Veterans Affairs (VA) who are on a tour of institutions of higher education with "Vet Success on Campus" (VSOC) programs. Webster University is the only university in Missouri with a VSOC.
Representatives of the VA will be on campus on Oct. 19 to discuss the VSOC program, meet with students and University representatives and tour a new Student Veterans Center on the home campus. A ribbon cutting will be held at 11:30 a.m. that day to officially open the center. The Center is located next to the parking garage at 200 Hazel Ave. The event is open to the public.
The VSOC program was created in 2009 as part of the Post 911 GI Bill. It is designed to help student veterans and their qualified dependents succeed and thrive through a coordinated delivery of on-campus benefits assistance and counseling leading to completion of their education and preparing them to enter the labor market in viable careers.
"Webster has a long history of serving veterans and those still in uniform, and the addition of the VSOC program from the Veteran's Administration is another way for us to meet the needs of our military students and their educational needs" said Brig. Gen. Mike Callan, USAF (Ret.), associated vice president for Military and Government Programs. "Besides honoring our partnership with the VA, we also will recognize our partnership with The Home Depot, which gave our Student Veterans Organization a generous grant to complete the Student Veterans Center."
The Home Depot granted Webster University's Student Veterans Organization with a nearly $9,000 grant to use toward materials to remodel an existing space on the home campus into a Veterans Center. At the center, student veterans will have a permanent space to study, hold meetings, receive information about programs available to them and also get access to on-campus services. During the Oct. 19 event, tours of the new Center will be offered and information will be available about educational services available to veterans and those currently in the military.
Webster University's history of interactions with veterans and those with uniform can be traced back to World War II. During the war, Webster University students organized a war bond drive that was the most successful war bond drive in Missouri's history. Several military vehicles were named after Webster during that effort, including two aircraft and a hospital ship. After the war, Webster University established its first student organization for veterans, as many of Webster's students served in the military as nurses, auxiliary pilots and in support roles for the military.
In 1968, Webster University established The VAULT (Veteran's Accelerated Urban Learning for Teaching) program to train Vietnam Vets to teach or assume other professional roles in inner-city schools, primarily at the elementary level. In 1974, the U.S. Department of Defense invited Webster College to become the first to open an extended campus program at Fort Sheridan near Chicago. Military locations also opened at Scott AFB, Illinois and Fort Leonard Wood, Missouri. The program provided military personnel access to quality higher education on base.
Today, Webster has a presence on more than three dozen military installations across the U.S. The University has been recognized as a top choice for veterans and those still serving in the military by U.S. News and World Report, GI Jobs, and Advanced Military Education.
With its home campus in St. Louis, Missouri, USA, Webster University (www.webster.edu) comprises an action-oriented global network of faculty, staff, students and alumni who forge powerful bonds with each other and with their communities around the globe. Founded in 1915, Webster is a private non-profit university with almost 20,000 students studying at campus locations in North America, Europe, Asia and Africa and in a robust learning environment online. The university is committed to delivering high-quality learning experiences that transform students for global citizenship and individual excellence.
tags:  featured, home page, president, provost, webster life, webster today,
News by Topic
Tag Categories
News by Topic
Tag Categories