Upcoming Wellness Events and Reimbursement
Aug. 20, 2015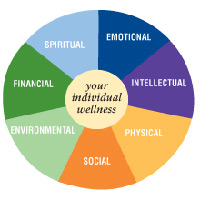 This year's Webster Wellness theme is "Wired for Wellness" and we already have planning underway. Here are highlights for a few upcoming events:
Moonlight Ramble – Aug. 29/30 – All Invited
Enjoy biking…under the stars? Sign up for this year's Moonlight Ramble, the longest running nighttime bike ride in the US and an annual tradition with thousands of riders taking to the streets of St. Louis at midnight under the light of the moon. The event starts at 12:01 a.m. on Sunday, Aug. 30, but you'll want to arrive on Saturday night Aug. 29 to get set up. There is a registration and a fee associated, so you'll want to check this out in advance. 
If you do decide to go, then let us know at wellness@webster.edu so we can plan a meet-up with you!
Involvement Fair – Wednesday, Sept. 2 (Students Only)
We'll be at this year's Involvement Fair handing out Mindful Mile t-shirts to students who can tell us how they are "Wired for Wellness." Join us between 11 a.m. and 2 p.m. on the Quad!
Weight Watchers Orientation – Thursday, Sept. 3 (Employees Only)
We are continuing this on-site program, assuming we have at least 15-20 participants. Join us Thursday, Sept. 3 at 11:30 a.m. in the Webster Groves Room, Webster Hall for an introduction to the fall/winter session, which will start the subsequent Thursday, Sept. 10 (same time/location), lasting 17 weeks plus an additional 2 weeks of e-tools online support. UHC members pay $93 (the other $93 reimbursed via the Employee Wellness Reimbursement program) and non-UHC members pay $186.   
4th Annual Webster Wellness Fair – Wednesday, Sept. 16 – All Invited
Join us in Grant Gym between 10:30 a.m. and 1:30 p.m. to get "Wired for Wellness"
Get connected with local and Webster Wellness exhibitions and vendors and plug into available screenings
Reboot at our recess area and tap into your creativity in our art area
Experience healthy food samples, including the #gorlokstrong bike blender smoothie
Check out fitness demos including: Tai Chi, Yoga and Boxing – 11:30 a.m., 12:15 p.m. and 1 p.m.
Chill with FREE chair massages - first come, first serve
Reap the reward with Door Prizes (every 30 minutes) and Grand Prize drawings (Extended sites, submit your entry through wellness@webster.edu)
Employee Wellness Reimbursement – next deadline Wednesday, Sept. 30
This program is still going strong – submit your receipts and participation for wellness activities or programs you've done in 2016. If you are a UHC member, you may be reimbursed 50 percent up to $100 this quarter. Submissions can be sent any time to wellness@webster.edu.
Any questions please contact us at wellness@webster.edu.
tags:  employee news, faculty, webster life, webster today, human resources, webster wellness,
News by Topic
Tag Categories
News by Topic
Tag Categories