Webster Artists in 'Atomic' Musical at New Line Theatre through June 25
Jun. 17, 2016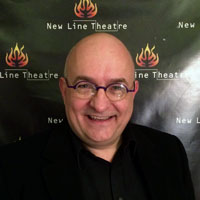 Webster University is well-represented at performances of the musical Atomic at New Line Theatre: Department of Music chair Jeffrey Carter is musical director for the production, alumnus Jake Stereos (BM '15) plays bass, and current student Eric Bateman plays cello, while former students Larissa White and Sean Simpson are cast in supporting roles. Benjamin Roseman (BA '16) is the sound designer.

"My work with New Line Theatre allows me to practice what I preach in teaching music direction for musical theatre," said Carter. "That I get to work with current students and alums in this great show makes the deal even better."
Atomic runs June 2-25, Thursday through Saturday evenings, all performances at 8 p.m., at the Marcelle Theater, 3310 Samuel Shepard Drive, three blocks east of Grand, in Grand Center.
Tickets are available at the door and through Metrotix, 314-534-1111. Tickets are $20 for adults and $15 for students/seniors on Thursdays; and $25 for adults and $20 for students/seniors on Fridays and Saturdays.New Line offers all currently employed educators half price tickets on any Thursday night, with work ID or other proof of employment.
About Atomic
Atomic tells the story of Leo Szilard, a member of the Manhattan Project, as he struggles with responsibility, authority, and culpability as the atomic bomb is developed. The New Line production is only the fourth ever of the pop/rock musical by the Australian writers Danny Ginges (book and lyrics) and Philip Foxman (music and lyrics).  

The Riverfront Times review said ""New Line Theatre's Atomic is thrilling...It is a complex story that presents multiple viewpoints on the purpose of applied science, the ethics of war, the depths of the human conscience and the dangers of bureaucracy. That's a heavy load for a musical to carry, but New Line Theatre's current production of the show makes it look effortless...What could be a play bogged down in conceptual arguments is instead a very human story about our best and worst tendencies as a species. Ambition, curiosity and altruism jostle with overweening pride, blind obedience and vengeance."

Listen to a feature on St. Louis Public Radio, with a discuss by the writers and director Scott Miller.

tags:  alumni, college of fine arts, webster life, conservatory of theatre arts, department of music, webster today,
News by Topic
Tag Categories
News by Topic
Tag Categories