Webster Celebrates Black History Month
Jan. 28, 2016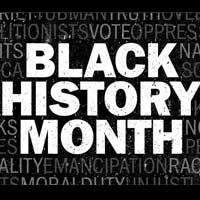 Webster University will host or participate in several events for Black History Month this year. More BHM events are in the works and will be added in the coming weeks. For information about more Webster University events, visit the Webster University Events Calendar at events.webster.edu.
Kane Smego - Who I Really Am: Spoken Word & Storytelling
Tuesday, Feb. 2, 6 p.m.
East Academic Building, Room 253/262
This performance & lecture examines spoken word poetry and storytelling as tools for expressing and constructing identity, celebrating diversity, and building relationships across lines of difference. As a young person whose own life was changed through his introduction to the art form, Kane discusses the ways in which his work as a youth educator and nonprofit director gives young people the tools to discover and express who they are and who they wish to be.
Jazz at Webster: Black History Month Concert from The Nick Savage Quartet 
Monday, Feb. 8, 7 p.m.
Winifred Moore Auditorium
The musical selections were chosen to remember the Booker Ervin recordings made in the 1960's featuring drummer Alan Dawson. Admission is $7 for general admission, and $5 for seniors.

Katrina: Ten Years After the Storm
Wednesday, Feb. 10, 6-9 p.m.
East Academic Building, Room 253/262 
This program is in collaboration with the Webster University Conservatory and will feature scenes from their production of Shotgun. The program will also feature a talk by Jarvis DeBerry, a member of a Pulitzer-winning team who covered Hurricane Katrina. Jarvis is currently an editorial writer and columnist for the Times-Picayune in New Orleans, Louisiana. He will be on campus to talk about the tribulations left in the wake of one of the deadliest storms in U.S. history and how New Orleans has transformed 10 years later.
View more info on the events calendar.
CANCELED: The #BlackLivesMatter event listed below has been canceled. 
U.S. Founders and International Ambassador of #BlackLivesMatter
Monday, Feb. 22, 6:30 p.m., with doors open at 5:30 p.m.
Loretto-Hilton Center for the Performing Arts, Main Stage
Join the Multicultural Center and International Student Affairs Department in welcoming the U.S founders and International Ambassador of #BlackLivesMatter to campus. Fueled by deep-rooted social, economic and cultural issues stemming from decades of tense race relations and powered by the pervasive presence of social media, Black Lives Matter has rapidly evolved from a Twitter hashtag into this generation's civil rights movement. With a vision of justice for all, they will engage the campus and community in a discussion about race relations in America and Canada. This event is free and open to the public.
POSTPONED: The Ilyasah Al-Shabazz lecture listed below and scheduled for Feb. 24 has been postponed due to a personal emergency. 
Ilyasah Al-Shabazz Lecture
Wednesday, Feb. 24, 7 p.m.
Winifred Moore Auditorium
Ilyasah Al-Shabazz, the youngest daughter of Malcolm X, will discuss her book X: A novel, which follows the formative years of the man whose words and actions shook the world. This program is a collaboration with the Office of Student Engagement.
Association for African American Collegians (AAAC)
Webster's student organization the Association for African American Collegians (AAAC) will also presents several events for Black Future Month:
Feb. 9, 7 p.m. – Black Men & Women Relationships
Feb. 11, 3 p.m. – Black Professionals Fair
Feb. 16, 9:30 p.m. Dear White People screening
Feb. 17, 7 p.m. – Black History Game Night
Feb. 21, 7 p.m. – Spiterature 2016
Feb. 24, 8:30 p.m. – My BlackArt Speaks
tags:  webster life, webster today, diversity and inclusion, mcisa,
News by Topic
Tag Categories
News by Topic
Tag Categories