Resumes, Professional Dress and More: Career and Internship Fair Prep Events
Sep. 26, 2016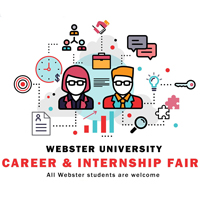 The annual Career and Internship Fair is coming up Oct. 6, and students and alumni are encouraged to both participate in the fair and prepare and plan accordingly.  
This is an outstanding opportunity for students and alumni to meet recruiters face-to-face, find out about internships and jobs, get invaluable practice networking with potential employers, and much more.
See the following events to help prepare and get the most out of this experience:
Career & Internship Fair Walk-In Hours
Monday, Sept. 26, 11 a.m. - 1 p.m., Marletto's Marketplace
Students can walk in to meet with our Career Development team to have their resume critiqued, review the format of the fair, and gain other fair information.
Career & Internship Fair Workshops
In these one-hour workshops, participants will:
Learn the format of the fair
Receive general preparation advice from our Employer Relations team
Build confidence to network with employers
Dress for Success Workshop
In the "Dress for Success" Workshop, participants will learn the difference between business casual and professional dress, plus learn affordable options for purchasing professional attire through this interactive workshop. 
Career & Internship Fair: Oct. 6
On the day of the actual fair, Thursday, Oct. 6, 1-3:30 p.m. in the University Center's Grant Gymnasium, students and alumni should dress professionally and bring resumes.
tags:  academics, alumni, home page, webster life, career planning and development center, webster today,
News by Topic
Tag Categories
News by Topic
Tag Categories