Time For Three to Perform at Community Music School's 90th Anniversary Celebration
Jan. 28, 2016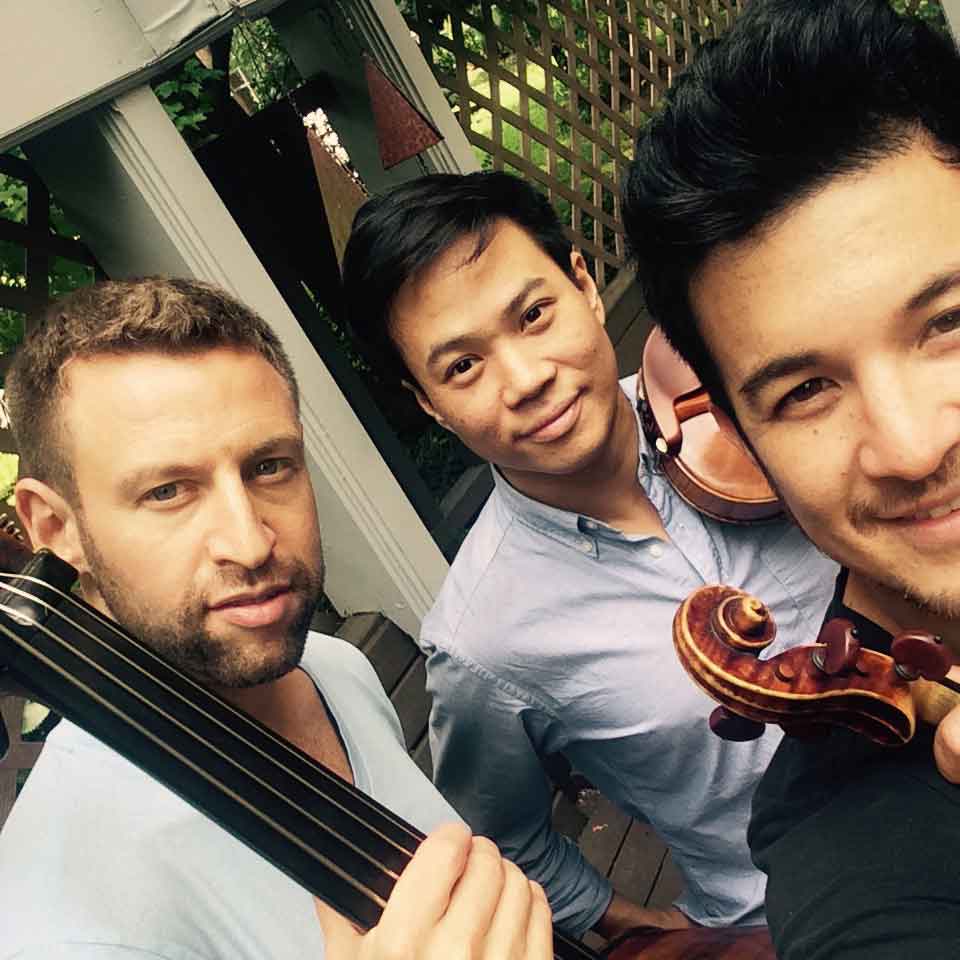 ST. LOUIS, MO  -  Nationally acclaimed trio Time For Three (Tf3) will help the Community Music School of Webster University (CMS) celebrate 90 years of music education with a concert at 7 p.m. Thursday, March 31. This will be the first time the group will perform in St. Louis.
The classically trained trio (Nicholas Kendall and Nikki Chooi, violins; and Ranaan Meyer, double bass) defies any traditional genre classification. With virtuosity and showmanship, the trio performs music from Bach to Brahms and beyond, including originals and their own arrangements of everything from bluegrass to ingenious pop-music mash-ups.   
"Nikki, Ranaan and Nick are the perfect examples of how classically trained musicians can play any style of music with joy and virtuosity. Improvisation is central to their style of playing," said CMS Suzuki violin teacher Nancy Daby. "Tf3 coming to CMS to work with our students and present a concert is not to be missed."
Though the 90th anniversary concert will serve as Tf3's St. Louis premiere, the group has musical roots in the St. Louis area. Nicholas Kendall is the grandson of John Kendall, a St. Louis-area professor of music who introduced the Suzuki method to the United States. To demonstrate the effectiveness of Kendall's theories, the CMS Suzuki Ensemble students will make a special appearance with Time for Three.
At 6:30 p.m., just before the concert, a celebratory toast will be held in the lobby to recognize the CMS' 90-year history of music education. Following the concert, the evening with conclude with an after-party for donors and sponsors.  
Concert admission is $50 or $30, and $12 for children under 12. Admission includes the celebratory toast at 6:30 p.m. Donor and sponsor levels are also available. For more information, visit www.webster.edu/cms90 or call (314) 968-5939. Tickets may be purchased online with a credit card or by mail with a check. All proceeds go to support music education through the Community Music School of Webster University.
Tf3 Student Workshop March 31
Besides the concert, Tf3 also will also present the student workshop Follow Your Dreams and Shoot for the Stars! at 4:30 p.m. on March 31. At the workshop, Tf3 will demonstrate their instruments, talk about their musical journey, and reveal their experiences as music students. They will also share their empowerment and bullying prevention music video, which has gone viral on the web. Tf3 encourages young people to find what it is that makes them happy and live it – all while encouraging each other to do the same. The workshop is free and open to the public.
CMS 90th Anniversary Celebration
Thursday, March 31
Student Workshop, 4:30 p.m.
Celebratory Toast, 6:30 p.m.
Time For Three Concert, 7 p.m.
After-Party, 8 p.m.
Community Music School of Webster University (Concert Hall)
535 Garden Ave., Webster Groves, MO 63119
About Time For Three (Tf3)
Since Tf3 were fellow students at Philadelphia's Curtis Institute of Music they have wowed media and fellow artists alike with their charismatic musicianship. National Public Radio said: "In person, the members of Time for Three come off as just three dudes in a band. But with their staggering technique and freewheeling genre-crossing, it's hard not to be swept up in the force of their contagious energy." The Wall Street Journal praised the trio's rare blend of "spontaneity and precision," while the Indianapolis Examiner raved, "Demonstrating their ability to deeply connect with their audience in a most interactive way, they electrified a full-house crowd."
But perhaps no one has offered a more enthusiastic appraisal than the great Sir Simon Rattle, chief conductor of the Berlin Philharmonic, who said: "Simply put, they're a knockout! Three benevolent monsters – monsters of ability and technique surely. But also conveyers of an infectious joy that I find both touching and moving. I would recommend them not only for entertainment value, but also for anyone looking to see how all types of American music can develop, when life and passion such as this are breathed into it."
Tf3 has performed from Carnegie Hall and the famed jazz club Yoshi's in San Francisco to European festivals, NFL games and the Indy 500. The group's hit YouTube bullying-prevention video "Stronger" has inspired students across the globe, eliciting features on CNN and the Huffington Post.
Since 2009, Tf3 has held a hugely successful residency with the Indianapolis Symphony Orchestra, helping to expand the orchestra's audience with innovative outreach. Tf3's debut album "Time for Three" was released in 2014 on Universal Music Classics. The album, with tracks co-produced by Bon Iver's Rob Moose, showcases the trio's melody-rich string weave and its uncommon flair for collaboration, with the group teaming with pop singer-songwriter Joshua Radin, jazz saxophone icon Branford Marsalis, Decca cello star Alisa Weilerstein and ukulele ace Jake Shimabukuro, among others.
Learn more about Time for Three and check out their innovative music videos at www.tf3.com       
About the Community Community Music School of Webster University
Founded in 1925, CMS offers outstanding music education and performance opportunities to students of all ages and abilities and serves the entire St. Louis metropolitan region. Classes are available in University City, at Faust Park in West County, and at CMS headquarters located on the Webster University campus in Webster Groves. For more information call 314-968-5939.
The Community Music School of Webster University is accredited by the National Association of Schools of Music and is a certified member of the National Guild of Community Schools of the Arts. The Community Music School receives assistance from the Arts and Education Council of Greater St. Louis and the Regional Arts Commission.
tags:  featured, home page, webster life, community music school, webster today,
News by Topic
Tag Categories
News by Topic
Tag Categories