CMS: Free music and movement classes for babies to age 6
Jul. 18, 2016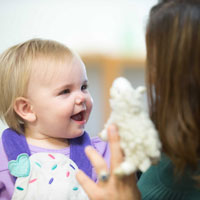 Inspire your baby's or child's love of music! Sing, dance, wiggle and giggle with your little one at a free Kindermusik and Music for Little Mozarts (keyboard) Demo Day class. Experience a sample class with a variety of musical styles, singing, movement and dance activities, and instrument play.
 
Thise who enroll for classes by Aug. 12, will receive a $10 tuition discount. Some classes fill early. Classes begin between Aug. 31 and Sept. 12, depending on location.
 
Demo Days are for adults with children ages birth to 6 years old "new" to Kindermusik or Music for Little Mozarts classes. Register at a Demo Day receive a discount.
 
Class descriptions, times and locations, registration information are all available online. Enroll today to secure your spot. Reservations for Demo Days are required. Call (314) 968-5939 or register online at webster.edu/kindermusik. Space is limited.
For more information, call 314-968-5939 or visit webster.edu/kindermusik.
 
Class Dates/Times, Locations and Ages
 
Saturday, Aug.13 (Kindermusik/Music for Little Mozarts classes, ages birth-6 years)
9:30-11 a.m.
Community Music School of Webster University (on the campus of Webster University)
535 Garden Ave.
Webster Groves, MO 63119
314-968-5939

Saturday, Aug. 13 (Kindermusik/Music for Little Mozarts classes, ages 4-5 years)
1:30-3 p.m.
Community Music School of Webster University (in Faust Park)
Strauss Center
14941 Olive Blvd. (follow signs at main park entrance)
Chesterfield, MO 63017
636-537-1601

Monday, Aug. 15 (Kindermusik classes, birth-5 years)
9:30-10:30 a.m.
The Lodge-Des Peres
1050 Des Peres Road
Des Peres, MO 63131
314-968-5939

Wednesday, Aug. 17 (Kindermusik classes, birth-3 1/2 years)
9:30-10:30 a.m.
Kol Rinah Children's Center
829 N. Hanley Rd.
University City, MO 63130
314-968-5939

Saturday, Aug. 20 (Kindermusik classes, birth-5 years)
9:30-10:30 a.m.
JCC-Marilyn Fox Building
16801 Baxter Rd.
Chesterfield, MO 63005
314-968-5939
News by Topic
Tag Categories
News by Topic
Tag Categories