Commencement Videos: The people grads thank, the people they'll miss
May. 12, 2016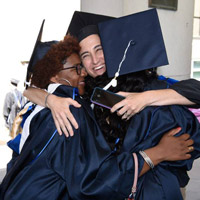 May begins a season of commencement ceremonies throughout Webster University's global network of campuses. The largest was the 97th Annual Commencement at The Muny in Forest Park in St. Louis, where Webster was founded in 1915. Over 1,000 graduates attended that ceremony, including about 140 who earned their degree at campuses throughout the world or online.
With this milestone also comes time to reflect on the accomplishments of the journey to an academic degree or certificate, and all the people who helped along the way.
For the ceremony at The Muny, we interviewed new alumni about the people on their minds at this turning point in their lives.
'I'd Like to Thank...'
From parents to faculty to advisers and more, hear who some graduates thank for helping them get to this point. Share the following video via this Facebook post:
'I'm Going to Miss...'
So many family, so many friends and classmates that our graduates will miss. But "even though we won't be here, we'll always be a part of Webster," they said. Share the following video via Facebook here:
And More...
Also check out the earlier video of how students and faculty savored the moment at Commencement.
Overall, there are 6,423 graduates this year, bringing Webster's alumni network to over 180,000 around the world.
Visit the following campus Facebook albums for photos of last weekend's ceremonies in St. Louis, Geneva, Leiden, Orlando, Florida. 
tags:  academics, alumni, commencement, students, global, home page, webster life, webster today,
News by Topic
Tag Categories
News by Topic
Tag Categories