Conservatory Presents 'Slasher' Sept. 28-Oct. 9
Sep. 27, 2016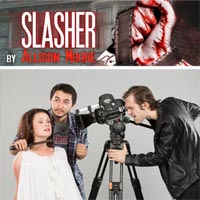 "Screaming. Blood. Impalements. Meat hooks. Electric drills. Objectified sexy women. Crazy mother in wheelchair. Whaddya expect? It's a slasher movie."
- Philadelphia Inquirer
The Conservatory of Theatre Arts presents the dark comedy Slasher by Allison Moore.
Performances will be held in the Emerson Studio Theatre (located downstairs in the Loretto-Hilton Center) Sept. 28-Oct. 2 and Oct. 5-9 at 7:30 p.m., with Sunday performances at 2 p.m.
To reserve tickets, call 314-968-7128. Tickets are free for Webster students, faculty and staff with a valid ID; $15 for adults; and $7 for seniors, students, and Webster alumni.
This production contains violence and strong language.
Synopsis:
Every actor has their big break: for DiCaprio is was the epic Titanic, for young Sheena it's a low-budget horror movie. At least that's what she thinks, but her mother begs to differ. As a diehard feminist, Frances sees her daughter's role as "last girl" horribly offensive. She will stop at nothing to pull the brakes on the film. Hopefully everyone survives the ordeal. This hilarious dark comedy won high praise at its premiere at the 2009 Humana Festival. It's a night of laughs...with a few screams mixed in of course.



tags:  academics, college of fine arts, webster life, webster today, conservatory of theatre arts,
News by Topic
Tag Categories
News by Topic
Tag Categories