Earth Day: Frogwatch on Campus, St. Louis Festival
Apr. 22, 2016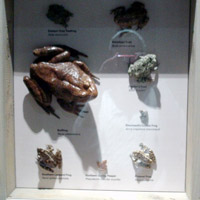 Webster University Sustainability is involved in multiple Earth Day weekend events, including a "frogwatch" on campus and a booth at the St. Louis Earth Day festival in Forest Park.
Celebrate Earth day by participating in a training session for Frogwatch STL. Learn to identify frogs by their calls and contribute valuable citizen science data.
This event includes a walk around Webster's bio-retention pond to identify frogs. At least five species have been identified around the pond.
See this story on St. Louis Public Radio (and listen to the different frogs!) about the event. Click "I'm Going" on the events calendar entry to register. E-mail websterfrogs@yahoo.com for more information.
The St. Louis Earth Day festival in Forest Park takes place Sunday, April 24, from 10 a.m.-6 p.m. Join the St. Louis community in celebrating all things green and take the opportunity to meet local nonprofits and local business working on sustainable solutions, musical acts and performance art, hands-on activities and lots of local food options.
Webster University Sustainability will be at a booth showcasing the University's strides as a global Webster community working toward a sustainable future. For more information on the festival and getting to the festival, go to stlouisearthday.org.
tags:  academics, college of arts and sciences, sustainability, biological sciences, natural area, webster life, webster today,
News by Topic
Tag Categories
News by Topic
Tag Categories