'Every 28 Hours' Play Festival Addresses Racial Justice
Oct. 21, 2016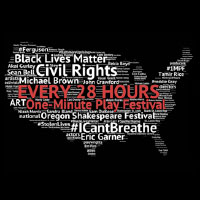 Students, faculty, and staff are invited to attend a free, one-night only performance of "Every 28 Hours"—a festival of one-minute plays about racial justice in the United States. The Repertory Theatre of St. Louis hosts the performance on Monday, Oct. 24, 8 p.m., at the Loretto-Hilton Theatre at Webster University.
The "Every 28 Hours" Plays are inspired by the Black Lives Matter movement, with participation by playwrights and theaters nationwide. The plays were developed in 2015 during a week-long residency with participation from 22 theatre artists from across the U.S. and a St. Louis cohort that included community members, artists and activists. The plays debuted in October of last year in Ferguson and St. Louis. The work is now being shared across the United States, culminating in a national action in October 2016 in which at least 60 theaters and universities are participating.
St. Louis Performance
In St. Louis, the participating groups include The Black Rep, Mustard Seed Theatre, The Repertory Theatre of St. Louis, Shakespeare Festival St. Louis, Show Me Arts Academy, Slightly Askew Theatre Ensemble and That Uppity Theatre Company.
"'Every 28 Hours' is an invitation to a different kind of witnessing of many different perspectives in the wake of what some have called 'The Ferguson Moment,' following the death of Mike Brown," said Webster alumna Joan Lipkin '75 , producing artistic director of That Uppity Theatre Company, who serves on the national board and heads the collegiate initiative around engagement. "This collection of short plays unfolds like a kaleidoscope, building upon each other. I am touched by the efforts of many different local groups to add these events to their busy fall schedules so we can be part of both a local and national conversation. Significantly, the voices of nine different St. Louis writers are in the collection." 
"The Rep feels very privileged to be participating in this exciting and important project. Working together as a community of theatre artists, perhaps we can do some small part to help our hometown laugh, cry, and heal through the power of our art form," said Seth Gordon, associate artistic director of the Repertory Theatre of St. Louis.
Some of the performances may be previewed here.
About "Every 28 Hours"
Founded by One-Minute Play Festival artistic director Dominic D'Andrea and Oregon Shakespeare Festival producer Claudia Alick, this national partnership focuses on the widely shared statistic that every 28 hours in America, a black person falls target to systemic violence and is killed by the police, vigilante, or security guard.
"Every 28 Hours" features 64 one-minute plays, nine of which were written by St. Louis playwrights Nancy Bell, Marty Casey, Basmin Red Deer, Matthew Kerns, Stephen Peirick, Mariah Richardson, Rick Trumble, Kelley Weber, and Joan Lipkin. Lipkin serves also on the festival's producing team in St. Louis and soon will oversee the campus-wide production at Penn State.
tags:  college of fine arts, faculty, webster life, webster today, community engagement, diversity and inclusion,
News by Topic
Tag Categories
News by Topic
Tag Categories