Multi-Faith Reflection Space Now Available for Students
Aug. 25, 2016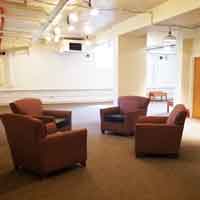 ST. LOUIS - A space where Webster University students can meditate, reflect on their spirituality and express their faith is now open. A multi-faith reflection space has been set up on the Eden Seminary campus.
Students raised the idea for such a space in dialogue last year with President Elizabeth (Beth) J. Stroble, Provost Julian Schuster, and Nicole Roach, associate vice president for Community Engagement and Diversity and Inclusion. Several departments at Webster collaborated with Eden Seminary to set up the space in Schultz Hall at Eden Seminary for the 2016-2017 academic year.
"Because our definition of diversity and inclusion is intentionally broad, it is fitting that we take this newest step to create facilities that provide a welcoming presence for students and employees," Stroble said. "Honoring the diversity of faith traditions among us takes many forms, and this new Multi-Faith Space is a tangible expression of our commitments and partnership with student leaders."
The space is outfitted with four soft chairs and four soft benches. As usage grows, accommodations will be enhanced. Hours will coincide with Eden's operations, 8:30 a.m. to 4:30 p.m. The entrance is from the Eden Seminary quad, through the northern most door (Door D) of Schultz Hall, and down the stairs. The signage on the door reads "Multi-Faith Room." Schultz Hall is on the east side of the quad, just north of the Luhr Building.
According to InterFaith Youth Core, an organization that promotes multi-faith expressions on colleges and universities and offers resources to student leaders, these types of spaces contribute to the diversity of a campus by accommodating the spiritual needs of students from a variety of belief systems. The organization also said that the spaces also can be used by students who do not believe in a deity or higher-being, or students who do not subscribe to a specific faith.
"These spaces contribute to the spiritual well-being of the students, which is just as important as a person's intellectual and physical health," Schuster said. "This investment into our students will further strengthen our inclusive efforts to serve the diverse population of our community, students, faculty and staff."
Next year, the University will identify a more centrally located site for the Multi-Faith Room after the Interdisciplinary Science Building is completed. 
tags:  home page, president, provost, community engagement, diversity and inclusion, webster life, webster today,
News by Topic
Tag Categories
News by Topic
Tag Categories