St. Louis Nihongo Kyoshitsu New Year Celebration Jan. 16
Jan. 14, 2016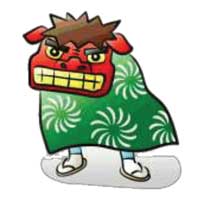 The St. Louis Nihongo Kyoshitsu (Japanese Language School) invites members of the Webster community to their New Year Celebration on Saturday, Jan. 16, from noon to 2 p.m. in Grant Gym on the home campus. Admission is free.
Help celebrate the New Year and enjoy a demonstration of homemade mochi (Japanese rice cakes) by the St. Louis Osuwa Taiko group and New Year's Lion Dance.
Attendees will also have the opportunity to purchase the homemade mochi that comes in five flavors: anko (red bean paste), kinako (sweet soybean flour), shoyu-nori (soy sauce & seaweed), sato-jyoyu (sweet soy sauce) and daikon-oroshi (grated horse radish) at $2 per plate. Oshiruko (sweet red bean soup with mochi) and Zoni (broth with mixed vegetable and mochi) is $3 per bowl.
All funds raised will directly support the St. Louis Nihongo Kyoshitsu. The school hopes to deepen relationships with the community and thank the generous donors who support the school.
St. Louis Nihongo Kyoshitsu New Year Celebration
Saturday, Jan. 16, noon-2 p.m.
Webster University's Grant Gymnasium
175 Edgar Road
tags:  global, webster life, webster today, community engagement,
News by Topic
Tag Categories
News by Topic
Tag Categories