Snapshots: Japanese New Year Celebration
Jan. 25, 2016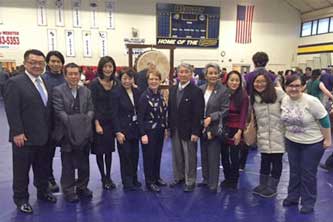 The St. Louis Nihongo Kyoshitsu (Japanese Language School) hosted a New Year Celebration event on Jan. 16 in Grant Gym on the home campus. The event was open to the Webster community, with close to 200 attendees, including students, teachers, staff, and supporters of the school.
The event included a demonstration of mochi (Japanese rice cakes) making and a New Year's Lion Dance. Students and attendees enjoyed watching performances while eating homemade mochi. A drum performance by St. Louis Osuwa Taiko group was a highlight of the New Year celebration. After their energetic performance, students and attendees had a chance to play the drums by themselves.
This opportunity allowed students to learn about Japanese tradition and cultures, and also helped the school express its gratitude to ongoing support provided by the community.

About the Japanese Language School
The St. Louis Nihongo Kyoshitsu, operates from Webster University campus on Saturdays. The school offers programs for Japanese students K - 8th grade and currently has more than 110 children attending. In addition, the school provides Japanese language courses for local residents, and there are approximately 60 adults and children enrolled.
To learn more about the St. Louis Nihongo Kyoshitsu, visit https://sites.google.com/a/stlnihongo.org/stlnihongo/english.
tags:  global, webster life, webster today, community engagement,
News by Topic
Tag Categories
News by Topic
Tag Categories