23rd Annual Awards Ceremony Honors Student Leaders
Apr. 19, 2016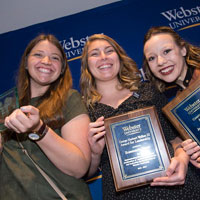 The 23rd Annual Student Leadership Awards Ceremony sponsored by Student Affairs and the Student Government Association, was held on Sunday, April 17, in Grant Gymnasium. Student groups and individual students were recognized for their leadership involvement at the Webster Groves campus, with approximately 170 students and guests were in attendance.
Many of the awards were presented by alumni, former award recipients who returned to honor current student leaders. Provost Julian Schuster presented the Capstone Award and President Elizabeth (Beth) J. Stroble presented the George Herbert Walker III Award for Leadership.
Gaby Deimeke, a graduating photography major, and Rosie Jones, a graduating women and gender studies and philosophy double major, were presented with The George Herbert Walker III Award for Leadership. The Walker Award is awarded to the graduating senior who has demonstrated the most significant combination of academic achievement and leadership during his or her student years at Webster University. Deimeke and Jones will share the $2,200 scholarship that accompanies the award.

Additionally, 14 graduating students received the WebsterLEADS Leadership Certificate and medallion, which they will wear at commencement.
View more photos of the awards ceremony at the University's Facebook page.
Individual Student Awards
Capstone Award for Leadership: Hailey Kaufman
Global Citizen Award: Devin Spencer
Campus Life Award: Olivia Heibeck and Jeannie Liataud
Campus Voice Award: Hafsa Mansoor
Outstanding Leadership of a Student Organization: Ben Shull
Outstanding Contributions to SGA: Anna Gaffney
Jacqueline Grennan Wexler Award for Humanitarianism & Servant Leadership: Juan Salas
Mark Govoni Emerging Leader Award: Michelle Kimbrel
Alumni Association Student Leadership Award: Undergraduate - Sophie Ozier, Graduate - Debhuti Roy
SGA Outstanding Student Awards: Freshman - Alyssa Johnson, Sophomore - Kirby Weber, Junior - Cameron White
Making a Difference Awards: Nikki Griffin, Sierra Hancock, Shane Jenne, Briana Lawson, Hezekiah McCaskill, Andrea Murphy, Jenni Toppi, C. Wiley, Hezekiah McCaskill
Student Organizations
Student Organization of the Year: Audio Engineering Society
Outstanding Contributions to Cultural Awareness: International Student Association
Outstanding Contributions to Campus Social Life:  Japanese Student Association
Outstanding New Student Organization: Webster Self Defense Club
tags:  webster life, webster today, student affairs, student government association,
News by Topic
Tag Categories
News by Topic
Tag Categories