Providing Accommodations to Students with Disabilities
Aug. 22, 2016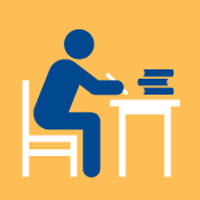 Each semester, students with documented disabilities request accommodations that provide equal access to classroom materials and learning experiences.
At the Webster Groves and St. Louis area campuses, and for students enrolled exclusively online, the ADA coordinator provides and implements accommodations. At extended sites, it is the responsibility of the site director or staff designee to provide accommodations for students enrolled at that site.
The ADA coordinator and Academic Resource Center team are always available for consultation and to assist site directors and staff members regarding best practices and creating accommodations for students on their campuses. However, please see the helpful step-by-step guide and a link to a video tutorial explaining the accommodations process below:
Steps to Provide Accommodations at Extended Sites
1. Face-to-face meeting with the student. During the meeting, the staff member and student will:
Go over the student's documentation (IEP/504 plan, diagnostic evaluation, or a letter from qualified professional).
Fill out necessary forms - Request for Accommodations and Release of Information forms. (Printable versions of these forms may be found on the Academic Resource Center's website at www.webster.edu/arc. Click on Accommodations and then on International and Extended Sites).
Please note: Medical documentation no longer needs to be recent (five years or less) according to ADA and AHEAD guidelines. If you are unsure if documentation is acceptable, please contact Shelley Wolfmeyer, ADA Coordinator, at 314-246-8284 or shelleywolfmeyer@webster.edu.
2. Send information to the ADA Coordinator at the main campus for consultation and review. Information should include:
Documentation
Forms filled out by student
Recommendations for accommodations from site director or staff designee
Information may be sent via fax at 314-968-5919 to the attention of Shelley Wolfmeyer or via email to shelleywolfmeyer@webster.edu.
3. Send a letter of accommodation to the student's instructor(s). A Letter to Instructor template is available on the International and Extended Sites page of the ARC website as well. Send copies of the letter to:
The student
The instructor(s)
This letter should be sent to the student's instructor(s) each semester. It is the responsibility of the student to follow up with the instructor to communicate his or her needs and to ensure implementation of the accommodations. However, the student may also seek any necessary assistance from the site director or staff designee at any time.
A video with step-by-step instructions may be found via the ARC's website.
tags:  academics, employee news, extended campus, webster life, webster today, academic resource center, diversity and inclusion, disabilities,
News by Topic
Tag Categories
News by Topic
Tag Categories